Gok Wan: 'Talking about spring onions and A-line skirts in the same breath is heaven'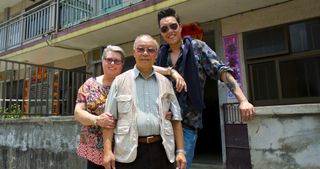 Gok Wan (opens in new tab) happily confesses to having three passions in life – food, fashion and family. So when This Morning (opens in new tab) bosses asked what he'd like to get up to on the revamped show this autumn, he saw a way to combine all three. He asked to go to Hong Kong, which is not only at the forefront of the fashion world it also has some of the best food in the world.
Gok took his 70-year-old parents as they've only ever had one family holiday together. His father, affectionately known as 'Poppa Wan', was born in Hong Kong, but left at 16 to run a restaurant in England with his wife, Myra.
Part Who Do You Think You Are? and part buddy road trip, the three-part special, screening on the ITV daytime show on Wednesdays, culminates with Poppa Wan and Gok cooking a mouthwatering family recipe together.
Gok, 41, talks to TV Times, about family, A-line skirts and why Asian food is 'theatre on a plate'…
How are you enjoying being a regular with the This Morning team?
"I absolutely love it. I wasn't sure how I'd feel coming into a studio twice a week every week as I'm used to running freely around the country getting women naked! But I feel very at home here."
So tell us about Hong Kong…
"I was born in Leicester and didn't go until my 20s as I wasn't interested in my Asian heritage growing up – I just wanted to fit in with the other kids. But when I visited this incredible metropolis I fell in love. It's the epicentre of fashion for most of Asia and, of course, Asian food is the best in the world. It appeals to my inner showman! Food is an extension of your personality and the vivid colours and exotic tastes bring drama to the table. It's theatre on a plate."
What was the best thing you ate in Hong Kong?
"It was a simple noodles dish of spring onion, water chestnuts, soy and oyster sauce which my dad and I cooked together at my late grandma's house. It's derelict now – an empty shell, with a Buddhist shrine inside and some photos on the wall – and we cooked over a little stove, using the guttering for water which sounds disgusting, but wasn't! It felt like going back to nature, so special - and Dad was in his element. It was my favourite part of the trip."
What else was on the menu?
"Poppa Wan went head-to-head in a cook-off with a Michelin starred chef and wiped the floor with him! Dad made Paper bag chicken – a showy dish he used to cook in his restaurant made with star anise, cinnamon, five spice, soy and fish sauce. The chef did stir-fry lobster and added his Shaoxing wine way too early in my opinion!"
Any other memorable moments?
"We went to my grandparents' shrine – a Buddhist temple where their ashes are and ate the most incredible Buddhist feast in their memory. It involved about 20 dishes – spicy soups, yams carved like fish, herby noodles - all completely vegetarian and absolutely delicious. I'm not a spiritual person, but got something completely different from the food because of where we were. It was a very sentimental journey for me."
What did your parents make of the fashion world?
"They loved it! It was Fashion week so I took Dad to some shows, which he'd never been to before – he didn't fall asleep, which was great! It's so far removed from his life – it's like two worlds colliding – but I think he's proud of me. Seeing him in his 'home' was fantastic as we had conversations about his history and I saw the nuts and bolts of him which was wonderful."
Your 2012 Channel 4 cookery series, Gok Cooks Chinese was a hit. Any more in the pipeline?
"I'd like to do another at some point. I've cooked on This Morning and I'm sure I'll do it again. It's wonderful that people accept me in both the food and fashion world. It was a real gamble and I wondered if people would get that although fashion is my first, professional love – my personal love is food. Talking about spring onions and A-line skirts in the same breath is heaven."
Get the latest updates, reviews and unmissable series to watch and more!
Thank you for signing up to Whattowatch. You will receive a verification email shortly.
There was a problem. Please refresh the page and try again.