Great British Bake Off reveals how ratings have changed since move from BBC to Channel 4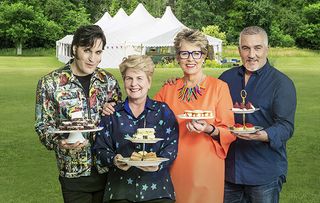 (Image credit: Press Association Images)
It's not good news...
As the finale of the Great British Bake Off 2018 aired on Tuesday night, a delighted nation tuned in to watch Rahul Mandal be crowned the winner - after a long series doubting his abilities.
But it seems that, while the show was popular with viewers, it hasn't quite been getting the ratings it's used to this series.
According to the BBC, the final was watched by an average live audience of 7.5 million people - a small increase on last year's figure of 7.3 million.
However, since the programme's move from BBC One to Channel 4, it appears to have lost some of its loyal audience.
Reportedly, when the show was last on the BBC for the 2016 final, a whopping 14 million viewers tuned in to see Candice Brown take home the coveted prize of winner.
But, the viewing figures are certainly nothing to sniff at, and especially not for Channel 4. In fact, the final of the 2018 series on Tuesday night actually brought in some of the channel's highest figures ever.
It has only been beaten by the Paralympics Opening Ceremony, which took place in 2012 and was attended by Queen Elizabeth II. The opening ceremony was 11.2 million viewers tune in at its peak.
While the Great British Bake Off didn't quite get the figures it has grown used to, it still proved to be yet another hit success amongst fans, who grew to love the try-hard bakers.
Viewers were especially won over by eventual winner Rahul, who beat Kim-Joy and Ruby Bohgal to the crown.
Many praised his self-depricating nature - suggesting that his GBBO win was the confidence boost he needed. However, it came after a difficult show-stopper challenge, in which his bake was almost entirely ruined.
After winning, nuclear scientist Rahul confessed, "I don't know whether to laugh or to cry. I just feel I need to talk with my mum."
Great British Bake Off is likely to return to Channel 4 next year - although no plans have yet been confirmed or announced.
Get the latest updates, reviews and unmissable series to watch and more!
Thank you for signing up to Whattowatch. You will receive a verification email shortly.
There was a problem. Please refresh the page and try again.