Greg Davies on the grief of losing on-screen dad Rik Mayall and his real father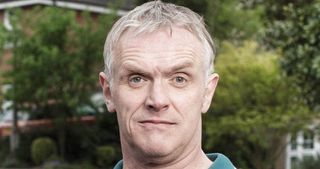 (Image credit: BBC/Rough Cut)
TV star Greg Davies has told of his painful year after both his father and the man who played his on-screen dad – Rik Mayall – died.
The Young Ones star Mayall died at the age of just 56 last year.
Davies, 47, told Radio Times magazine: "My dad died a couple of months after Rik… it was a difficult year. It's a unique set of circumstances. It was incredibly sad. I was very close to my dad."
Greg Davies at the British Comedy Awards in 2014 (Ian West/PA Wire)
Mayall played Davies' father in the Channel 4 sitcom Man Down (premieres Channel 4, Monday, June 1) and the former drama teacher said that he would never have considered getting another actor to play him.
"Rik was the dream casting for me. He was a childhood hero of mine, and I look like him. And he was beloved, as you saw when he died," he said.
"The adoration poured out for him. So never for a second did I think, 'That's OK, we'll just get another dad in.' "
Davies, who plays a teacher in the show, had already sketched out five episodes of a second series of Man Down when Mayall died.
Eventually he decided to substitute him with an eccentric aunt, who is not based on a real relative.
The late Rik Mayall pictured in 2006 (Anthony Harvey/PA)
"I don't have a battleaxe aunty, but I know some women in Shropshire who are that sort of stoic, get-on-with-life-even-if-your-legs-get-chopped-off, red-faced farmers' wives," he said.
Davies spent 13 years as a drama teacher, an unhappy period in which he was 'lost at sea' and felt 'absolute self-loathing' before becoming an actor.
He said that Mayall 'was probably the first person who made me think, 'Yeah, God, if I can get paid for that!
Davies also hit the headlines recently when it emerged that he had been in a relationship with Labour leadership candidate Liz Kendall.
He said: "We haven't been together for some time, but it was all very amicable and she is a good friend."
Get the latest updates, reviews and unmissable series to watch and more!
Thank you for signing up to Whattowatch. You will receive a verification email shortly.
There was a problem. Please refresh the page and try again.