'Motorbikes and freedom!' - the Hairy Bikers on hitting Route 66 for their new BBC2 show!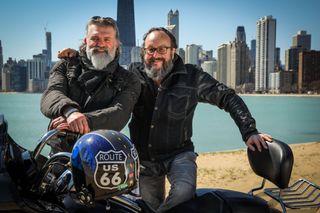 (Image credit: BBC/Twofour)
We caught up with Dave and Si to give them a good grilling about their American adventure…
Hairy Bikers Si King and Dave Myers are fulfilling a lifetime ambition on their latest culinary trip by riding Harley-Davidsons along America's iconic Route 66.
As they travel from Chicago to LA, BBC2's Hairy Bikers: Route 66 will see them make pit stops to cook and taste regional dishes, meet the locals and learn some US history.
Here we chat with Si and Dave about BBC2's Hairy Bikers: Route 66...
Why did you want to make a series about Route 66?
Si: "It's one of those iconic motorcycle trips, and also the most important road in modern American history."
What were the best and worst bits?
Dave: "The best were meeting the communities that exist around Route 66. We were adopted by the Navajo nation, who killed a sheep and barbequed it for us! The worst was riding through the Mojave Desert in 50-degree heat! I've cooked duck eggs at 50 degrees, so you can imagine how hot it is sitting on a bike!"
We associate American cuisine with fast food – is there more to it?
Dave: "There are a lot of burgers and my waistline suffered as a result! But scratch below the surface, with Route 66 being the migrant route, and there is a food culture born of immigration – from the Vietnamese to the Bosnians."
MORE: Scarborough - Everything You Need to Know about the new BBC1 comedy
Did American culture have a big impact on you when you were young?
Si: "The literature, music and films were all incredibly important, and seemed exotic at the time. That aspirational lifestyle – motorbikes and freedom. That was the cool thing about the States."
Peter Fonda died recently – did you feel like you were recreating his cult motorbike film Easy Rider?
Dave: "There were shades of Easy Rider!"
As bike enthusiasts, are you Harley-Davidson fans?
Dave: "Maybe not for British roads. We did a charity bike ride last year through Canada, and we're going again this year to do one in California. Both are on Harleys, and on those roads they work really well." Si: "However, as soon we got off our Harleys, because we're of a certain age, we walked like we'd just got off a horse!"
Did you bring back any souvenirs?
Dave: "I brought back Navajo jewellery for the family – it's beautiful, with wonderful stones and silverware."
Who were the most interesting characters you met?
D: "This old Navajo woman adopted us, so we are now sons of the Navajo nation! She was called Dorothy and she's our new mam."
You're very well travelled. What travel tips can you pass on?
Dave: "We didn't apply any of the travel tips we've learned on this one! We brought the most inappropriate clothing, considering the temperature ranged from minus 9 Celsius outside Chicago to plus 50 in the Mojave Desert! So my tip is: check the climate! What have you learned, Kingy?" Si: "Take a Bluetooth speaker. At the end of the night, Dave and I like to sit down with a beer, put some music on and chew the fat about the day."
There are lots of angry celebrity chefs – why are you two so cheerful?
Si: "For Dave and I, cooking food has always been a joyous process. If you're angry in the kitchen it comes out in the food. That said, paying good money for bad produce makes me angry." Dave: "We're lucky because we cook for pleasure – we've never cooked for paying customers."
Si, are you tempted to follow in Dave's dance steps and appear on Strictly?
Si: "I wouldn't be tempted, as I'm terrified of the whole process. I'm an utter coward!" Dave: "The irony is that when we're out, he's the first person to want to go dancing!"
Dave, what are your memories of Strictly?
Dave: "I absolutely adored Strictly. The dancers are brilliant and I made friends on that show that I've kept to this day. You have to just go with it and have a laugh. I've tried to persuade Si to do it, but it's not happening. However he did get offered Dancing on Ice last year!"
Wow! Were you tempted to say yes, Si?
Si: "Me on skates? Don't be nuts! I can hardly bloody stand up!"
Hairy Bikers: Route 66 starts at 8pm on Thursday 12 September on BBC2
Ian writes about TV and film for TV Times, What's on TV and TV & Satellite Week magazines. He co-hosts the weekly TV streaming podcast, Bingewatch.
Get the latest updates, reviews and unmissable series to watch and more!
Thank you for signing up to Whattowatch. You will receive a verification email shortly.
There was a problem. Please refresh the page and try again.