Harry Hill: 'I can't wait for people to say: "Tonight Harry, I will be..."'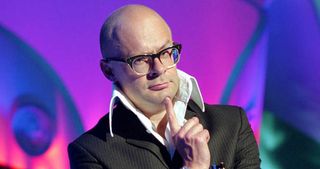 TV Times (opens in new tab) talks to Harry Hill (opens in new tab) on his delight at hosting a revamped version of the classic talent show Stars in Their Eyes and his happy memories of giving the nation his Morrissey (Saturday, ITV1)
Hi Harry, following in the footsteps of the likes of Matthew Kelly and Leslie Crowther as the host of Stars in their Eyes is no easy task….
"Of course. I think people feel very fondly about the original show, but I don't think they necessarily what to see it exactly like it was before. And that's what was interesting to me because I've been able to muck around with the format a bit and have some fun. Because it's me there will be a lot of comedy in the show when I'm talking to the contestants. I can't reveal who anyone we'll be performing as because we haven't recorded any of them yet."
Are you looking forward to the contestants saying, 'Tonight Harry, I will be…'?
"Yes, that will be a great moment. It's a show absolutely for all the family because we'll have people being transformed into stars from the 1960s right through to the present day. And then there's always that moment where you debate at home whether the person looks just like the star or nothing like them."
Have you kept the original theme tune?
"Yes, because we really like it, but we've written some words for it. At the end of each show we'll get the audience to sing along to that."
Why did you want ordinary members of the public taking part rather than celebrities?
"There are so many shows that use celebrities these days and I think that has less impact. I think in the old days it was a surprise to see celebrities doing silly things, but now that's happening pretty much all the time. Often there's a celebrity version of a series without there even being a general public version. There's a touching element about Stars in their Eyes in that people get a chance to dress up as their heroes and we're really going for that. Although I'm taking the mickey out of the format, I'm not taking the mickey out of the performances. So, the contestants will get a chance to look and sound really good."
Is there any celebrity element to the show?
"Yes, we've got this new item where a celebrity is transformed into an ordinary member of the public, who we see beforehand doing their everyday job. So we'll have on a celebrity who'll announce, 'Tonight Harry, I'm going to be Steve Taylor, a plumber from Basildon'. They'll then go through the smokey door and return as that person! It's random!!"
Did you enjoy performing as Morrissey when you appeared on a celebrity special in 1999?
"Yeah, I had a great time! It was brilliant fun because I spent a weekend in Manchester with Kirsty Young, Denise Welch and some bloke off Emmerdale who were all taking part."
How long did it take them to transform you into Morrissey?
"About 10 minutes! They just stuck a wig on me and the funny thing was the make-up lady didn't really know who Morrissey was. They were used to turning people in Neil Diamond or Lulu, so Morrissey was a slightly leftfield person to impersonate at that time. And I remember she worked from a faxed photograph – the fact that it was a fax tells you how long ago it was. And I can reveal that someone will be performing as Morrissey in this series"
What prizes can the contestants win?
"They'll all receive a Stars in Their Eyes souvenir pencil! I just wanted to bring back the innocence of it. There's a lot of talent shows today offering big money and we're sort of saying this is for fun. It's the audience in the studio who votes for their favourite act, rather than the audience at home. It's a lot more friendly."
Were you aiming to evoke the rubbish prize spirit of the Blankety Blank cheque book and pen?!
"I'm not saying it's a bad prize – I think a souvenir pencil is lovely! We're also getting a trophy made as well. The thing is there will only be 30 of these pencils given out, so they'll be a rarity."
If you ever make a celebrity special in the future, who would you like to see perform?
"I've always wanted to see Simon Cowell singing. So, perhaps he could perform as Marti Pellow, Cheryl could be Shirley Bassey and Louis could impersonate Des O'Connor. That sounds like a good show. And we could have Mel B as Edith Piaf! You'd tune into that, wouldn't you? I know you would!"
Stars in Their Eyes returns on Saturday January 10 at 7pm on ITV.
Get the latest updates, reviews and unmissable series to watch and more!
Thank you for signing up to Whattowatch. You will receive a verification email shortly.
There was a problem. Please refresh the page and try again.