Holby City spoilers: Reverend Richard Coles to guest star in a romantic special!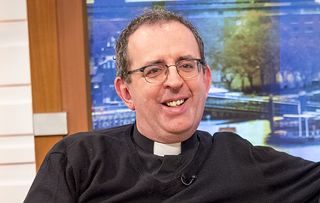 (Image credit: Ken McKay/ITV/REX/Shutterstock)
Richard will be in charge of a Holby wedding!
The Reverend Richard Coles is to officiate a wedding ceremony in Holby City next month!
The former Strictly Come Dancing star will be in charge of proceedings - but the big question is who's tying the knot?
The BBC has teased that it's one of three couples, saying:"A wedding is planned - and the happy couple need a Reverend to officiate the ceremony.
"Can Serena (Catherine Russell) and Bernie (Jemma Redgrave) overcome their issues? With their plans in chaos, what's next for Jason (Jules Robertson) and Greta (Zoe Croft)?
"And when Dom (David Ames) realises he must fight for his relationship, will a grand gesture be enough to win Lofty (Lee Mead) back?"
Richard won't reveal who the lucky couple is, but he is delighted about guesting in the BBC1 show.
"Thrilled to be invited finally to exercise my ministry of healing at Holby City, which has been my healthcare provider of choice for twenty years - and to officiate at an occasion so joyous even the late Professor Gaskell would have cracked a smile."
Richard also joked on twitter that he was "Clearing a space for my BAFTA, people!"
Holly City fans certainly need something to smile about, a fact admitted by the show's executive producer, Simon Harper.
He said: "After a dark year for the hospital, Holby is now revving up for Christmas and 2019 in this joyous episode celebrating love and commitment in all their diverse forms.
"As to which Holby couple ends up actually tying the knot, I couldn't possibly divulge, but I can say it's an incredible honour to have the iconic Reverend Richard officiating!"
56-year-old Richard famously partnered Jimmy Somerville in hit 1980s band The Communards. His dancing, though, wasn't quite up to scratch on Strictly and he was the second celeb to be given the boot on last year's show.
Richard will be in Holly City in the episode to be aired on Tuesday 11th December at 8pm.
Richard Coles pic: Ken McKay/ITV/REX/Shutterstock
Get the latest updates, reviews and unmissable series to watch and more!
Thank you for signing up to Whattowatch. You will receive a verification email shortly.
There was a problem. Please refresh the page and try again.