Hold the Sunset star Jason Watkins: 'I've bonded with a singing crocodile!'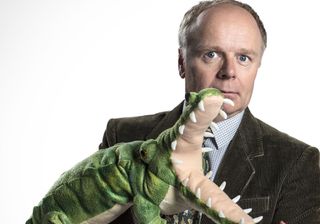 (Image credit: BBC)
Jason Watkins on returning to Hold the Sunset and unleashing his skills at ventriloquism...
Trollied and W1A star Jason Watkins is thrilled to be using his funny bones again as he returns for the second series of BBC1's warm-hearted sitcom Hold the Sunset.
After moving in with pensioner mum Edith (Alison Steadman) in the last series following his marriage break-up, the new run finds Jason's character Roger no closer to letting Edith and her exasperated boyfriend Phil (John Cleese) leave Blighty for a new life abroad.
Here, Jason Watkins tells us what lies ahead in the second series of Hold the Sunset…
What's On TV: Where do we find Roger?
Jason Watkins: " Edith and Phil are trying to sell Phil's house and move away but Roger is still living with Edith and doing his best to scupper their plans! He's desperately in need of income so he rents out part of Edith's house as a B&B and also tries to be a busker. But nothing quite pans out…"
WOTV: He takes his crocodile ventriloquist's dummy Methusela busking doesn't he?!
JW: "Yes, we're a double act and Methusela is very talented! Methusela's a delightful device. He says what Roger is thinking but hasn't got the gumption to voice. He's fun and out of respect, between takes I sit him up in a chair as opposed to chucking him down. Perhaps I have got a rather unnatural consideration for him!"
WOTV: Tell us about the new characters this time…
JW: "We have Sue Johnston back [from the Christmas special] as Edith's moany sister Joan. She is so funny and comedy royalty and butts up against Roger. And Shauna McDonald is Edith's ex-boyfriend Bob's [James Cosmo] wayward daughter Georgie. Roger starts to fall in love with her…"
WOTV: Do you have fun working with John and Alison?
JW: "Oh yes, John's unique, a real one-off, and has this natural comic anarchy that bubbles up during filming. And Alison is completely irreverent and we often do little improvisations together and make each other laugh. It's a lovely atmosphere on set."
MORE: John Cleese on his new sitcom Hold the Sunset: 'I see a parallel with A Fish Called Wanda'
WOTV: What reaction did you get to the last series?
JW: "Well, some people didn't like it but huge numbers did and I'm so glad it connected with people. What I love is that it's a very open, generous, straightforward comedy. It's about older people and their lives and families. A huge telly audience can identify with that and need something they enjoy."
WOTV: You'll next be seen as former Prime Minister Harold Wilson in the third series of Netflix's royal drama The Crown, what was that like?
JW: "Amazing! I shot most of my stuff with Olivia Colman who's playing the Queen. It's just a privilege to be in such a special show. I admire Harold Wilson and he was around at the birth of the European Union or Common Market. I hope he'll be re-evaluated in the present political climate!"
Hold the Sunset returns on Friday 2 August on BBC1 at 9pm
Get the latest updates, reviews and unmissable series to watch and more!
Thank you for signing up to Whattowatch. You will receive a verification email shortly.
There was a problem. Please refresh the page and try again.