Holly Willoughby: I didn't fancy my husband at first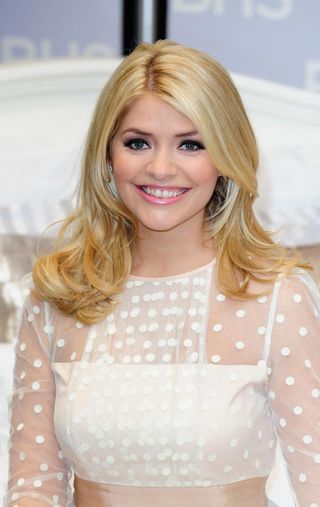 Holly Willoughby clearly doesn't believe in love at first sight.
The 34-year-old TV presenter has been married to TV producer Dan Baldwin for seven and a half years, and they have three children together.
But Holly has confessed to Woman & Home magazine that when they first met, she didn't even fancy him.
Holly and Dan on a night out in 2007 (Chicago/Empics)
Holly revealed: "At first, I didn't fancy Dan at all – I didn't even think about it. I don't think he could have fancied me either because it was such a genuine friendship."
The couple met while working on children's show Saturday Showdown and Holly explained that after six months of knowing each other, she and Dan were 'in each other's pockets constantly'", and their relationship developed from there.
Holly confessed: "I knew he was 'The One' pretty quickly. But we kept it a secret for eight months because I didn't want to give anyone a reason to be annoyed with us."
The couple are now parents to Harry, five, Belle, four, and seven-month-old Chester.
Holly pregnant in 2010 (Doug Peters/EMPICS)
Holly said: "One child is great, and so was two – but it felt like we were waiting for Chester to come along. He's just made everything sit really well.
"And I am now outnumbered! I feel it, too. But we've all just had to adapt."
And Holly still speaks to her own mum every day.
Holly speaks to her mum every day (Joel Ryan/Invision/AP)
She said: "Mum is a far better mother than I could ever dream of being. We speak three or four times a day – more to tell her things than ask advice.
"She helps me out a lot with the children, which is great, but we just really like hanging out."
Get the latest updates, reviews and unmissable series to watch and more!
Thank you for signing up to Whattowatch. You will receive a verification email shortly.
There was a problem. Please refresh the page and try again.