Honour ITV - air date, cast, trailer for the Keeley Hawes true crime drama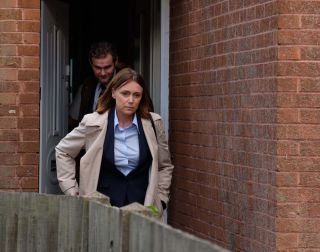 Keeley Hawes stars in Honour on ITV as a cop on a quest for justice
Honour, coming this September to ITV, is a new Keeley Hawes factual drama about the real-life so-called honour killing of Banaz Mahmod, who was murdered by members of her own family for falling in love with the wrong man.
The Bodyguard actress plays the real-life detective who brought five killers to justice in the heartbreaking true story. Twenty-year-old Banaz was murdered in London in 2006.
When is Honour on ITV?
Honour will begin on ITV on Monday 28th September at 9pm.
What is Honour about?
Written by Vanity Fair's Gwyneth Hughes, Honour centres on Detective Chief Inspector Caroline Goode's passionate quest for justice. Goode was determined to discover the fate of missing Banaz.
She soon found out that Banaz had gone to the police five times to report threats from her own family. Goode was mortified to discover that her colleagues had missed these repeated chances to save Banaz. ITV says "this tense and emotionally vivid drama brings Caroline's long and unwavering quest to life."
MORE: How to watch David Tennant drama Des online anywhere in the world
Who's in the cast of ITV's Honour?
Keeley Hawes, best known for The Durrells, Bodyguard and Line of Duty, stars as Detective Chief Inspector Caroline Goode. Keeley says: "In a time where honour killings are still rife, it is critical to shine a light on such an important subject.
"Banaz Mahmod's story, and DCI Goode's subsequent investigation, is certainly one that needs to be told and I am proud to be a part of it."
In an interview with TV Times, Keeley revealed that she has met the real Caroline. "I did. She came to set very early on, and we had a cup of tea. It's always odd meeting someone that you're going to play, but in the case of Caroline, we had a bit of artistic licence – for one thing, I'm 5ft 10in and Caroline is very petite. One of the things I really wanted to know about was the emotion.
"So I asked, 'Was it as emotional [in real life]?' She said yes, and it gave me liberty to explore that a little bit without making it feel like it was just for the purposes of the drama. That really was how she felt."
Meanwhile, Buket Komur plays Banaz. Buket's credits include What Is Your Name.
How many episodes is Honour?
Two. There are just two parts in the series, both one-hour long.
Is there a trailer for Honour?
http://www.youtube.com/watch?v=qX2_BWG7wNo
Yes, it shows Caroline (Keeley Hawes) being told the case needs careful handling. It also shows the pressure Caroline is under as she tries to find out what happened.
Honour starts on Monday 28th September at 9pm on ITV.
Get the latest updates, reviews and unmissable series to watch and more!
Thank you for signing up to Whattowatch. You will receive a verification email shortly.
There was a problem. Please refresh the page and try again.