Hugh Bonneville says Claudia Winkleman 'delighted' by W1A cameo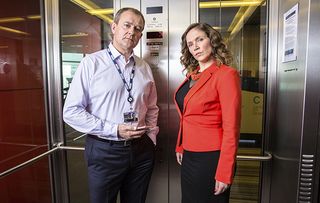 (Image credit: BBC/Jack Barnes)
Hugh Bonneville has revealed how Strictly Come Dancing host Claudia Winkleman was thrilled by her cameo in W1A, which returns for a new series on BBC2 tonight
Hugh Bonneville has revealed how Strictly Come Dancing host Claudia Winkleman was thrilled by her cameo in W1A, which returns for a new series on BBC2 tonight
What's the story?
Prepare for more BBC bureaucracy and terrible PR pitches as sitcom W1A returns.
It's business as usual, by which we mean, 'yes men' (and women) sitting in meeting rooms doing their best to avoid taking on any work…
Here, star Hugh Bonneville, 53, reveals what's in store for the BBC's beleaguered Head of Values, Ian Fletcher...
TVT: Are there any celebrity cameos to look forward to this year?
HB: Yes, Brian Cox, Sophie Raworth and Jeremy Paxman have been in. Claudia Winkleman has a part, too, she was a complete delight because she loves the series, and in between takes she just kept saying, "I can't believe I'm in my favourite show!" She has quite a complicated storyline as the Head of Daytime Factuality tries to commission a programme for her.
Claudia is 'delighted' by her upcoming cameo in W1A
TVT: What's the worst crisis facing Ian Fletcher this year?
HB: There's a former Premier League footballer who likes to cross-dress and is also very keen to be a pundit on Match of the Day. When the BBC say no, he assumes it's because they feel awkward about the cross-dressing, but actually he's just an incredibly boring presenter. Ian spends the entire episode bending over backwards trying to justify it.
TVT: Is PR guru Siobhan Sharpe (Jessica Hynes) back?
HB: Yes! Siobhan's company Perfect Curve has been bought out by a bigger company called Fun Media. It's a largely Dutch organisation that has some great new ideas 'going forward'.
TVT: It's been two-and-a-half years since the last series. Why so long?
HB: Well, we had all cleared our diaries to shoot it last year and I was then told my availability was the reason it hadn't been recommissioned! [laughs] Of course, it had nothing to do with the BBC being nervous about charter renewal…
TVT: Ian oversaw the London Olympics in Twenty Twelve, and now the BBC. Where might he work next?
HB: I did think Ian could step into American politics, but now that's become so absurd that you really couldn't go there! Maybe he'll help another city with their Olympic bid.
Get the latest updates, reviews and unmissable series to watch and more!
Thank you for signing up to Whattowatch. You will receive a verification email shortly.
There was a problem. Please refresh the page and try again.