Hugh Dennis: My 10 favourite Mock the Week moments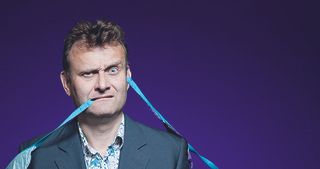 (Image credit: Pal Hansen)
It's been 10 years since Hugh Dennis (opens in new tab) first made a dash for the microphone in BBC2 panel show Mock the Week, in which comedians take a sideways look at the last seven days of news.
Hugh has been a fixture of the show since the beginning, along with host Dara O Briain, who presides over various raucous rounds that see the teams compete for laughs.
To celebrate the show's anniversary this month, we asked the 53-year-old comedian to choose his 10 best moments from Mock The Week's first decade…
First-time nerves
"The first few episodes were terribly nerve-wracking. At that point it was a much more structured show, with me on one side and Rory Bremner on the other. We played about nine games every show – the hardest was 'Ask the Politicians' – a kind of Question Time where we each had to adopt the role of a politician. The preparation was ludicrous. Over the years the show's become much simpler."
Animal cruelty
"Not much has ever gone wrong, but there was once a fly buzzing around the studio and I swatted it dead onto the desk. It was very impressive – if you'd seen a cowboy do it in a spaghetti western you'd have thought he was cool, but I got in trouble for it. People wrote in saying I shouldn't have killed it."
Making fun of Murray
"We don't have much interaction with the audience, so it was a big deal when Andy Murray was in. I'd done an Outnumbered sketch with him for Red Nose Day and he said he was a big fan of Mock the Week, so I invited him along. But it was just after his Wimbledon final defeat in 2012 and we were all sitting there thinking, 'We'd like to do lots of jokes about Andy Murray, but he's in the audience.'"
They did the jokes anyway (opens in new tab).
http://www.youtube.com/watch?v=ZQOyjfkhxPA
Frankie goes first
"I got on really well with former panellist Frankie Boyle, but I could never beat him to the mic in the performance area. He would just push you out of the way. Basically, he's from Glasgow and I'm from suburban London. I was being polite."
Dara is Scrooge
"Every year we do a Christmas special and in 2012 the plan was we'd buy each other presents. Most of us took it quite seriously. For example, I got Dara special socks to protect against deep vein thrombosis because he only ever sits there and I hadn't seen him move since 2005. When it was Dara's turn, all he'd done was take the tiny shampoo bottles from his hotel and he gave one to each of us. I'd spent hours in the shops and all I got from Dara was a tiny bottle of conditioner. I remember thinking, 'Cheapskate.' But it was funny."
Grace under fire
"Once when Rob Beckett was on, there was some discussion about Grace Kelly. He couldn't remember what she was called and referred to her as Princess Monaco of Kent. And I just thought, 'You really are of another generation.' It became a running joke during that episode and was mentioned every time he was on."
Frankie goes too far
"Frankie Boyle is a fantastic comic. You might think he says contentious things on air, but a lot of the stuff he did say never got broadcast. It's locked in a room somewhere where nobody can go. He always did Kerry Katona jokes, which was awkward because for a while I was the voice of supermarket chain Iceland with Kerry."
Introducing Gunther and Steve
"When Chris Addison used to be on, between takes he and I would pretend to be Gunther and Steve, two slightly camp German antiques dealers from Dusseldorf who had a shop selling bits of Co-op furniture and antimacassars. Chris and I come from a slightly different tradition to the other panellists – we're not stand-ups – and we like talking to each other in funny voices. We would have conversations as Gunther and Steve until we were told to shut up by the producers."
Cycle ride of shame
"In 2007 I cycled the stage of the Tour de France for amateurs on a Monday, and we were recording Mock the Week on the Tuesday. My fellow panellists were all amazed I'd done this until I told them that 11 hours into the race, I had finally caught up with a French cyclist who had only one leg. That sort of altered their attitude to my achievement."
Battle of the big heads
"We love making fun of Dara's huge head. When there was a news story about the Megabus franchise, for example, we made Dara put on a yellow cap that showed he looks exactly like their mascot, the Megabus Man. But although his big round head looks enormous, I'm worried mine is actually bigger. I'm convinced that if you put our heads in water and measured the displacement, I'd win. Dara's a scientist, so he'd love that."
Get the latest updates, reviews and unmissable series to watch and more!
Thank you for signing up to Whattowatch. You will receive a verification email shortly.
There was a problem. Please refresh the page and try again.