'Brief Encounters is a bit like a female version of The Full Monty,' says Karl Davies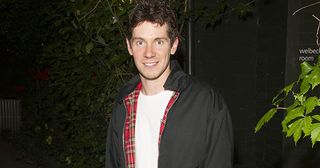 (Image credit: Dan Wooller/REX/Shutterstock)
Former Emmerdale star Karl Davies tells Soaplife about his new comedy-drama series Brief Encounters and why the ITV soap was his drama school
Former Emmerdale star Karl Davies tells Soaplife about his new ITV comedy-drama series, Brief Encounters …
So, what's your new TV role all about, Karl? "I play a bloke called Terry. He's a factory worker, who's just been made redundant in Sheffield in 1982. Terry's married to Steph [Sophie Rundle], one of a group of women who starts selling the Anne Summers range of lingerie and, er, marital aids as they were called at the time. It's a bit like a female version of The Full Monty, except the women in it aren't stripping. The subject matter is the hook that brings the major characters together, but life is tough in Margaret Thatcher's Britain and they all have very different stories to tell."
What's Terry like? "At the beginning of the series, he's your stereotypical 1980s Northern bloke, who's horrified at the thought of his wife doing such a thing – even though he's no longer earning and his job prospects are very thin on the ground. But as the episodes unfold, you see why Terry feels so vulnerable, frightened and insecure about life."
Do you remember the 1980s? "Only the later part of the decade, as I was actually born in 1982. I remember my mum having Tupperware parties at our house. I don't know about her putting on an Anne Summers' party, but then I wouldn't, would I? My parents were great to talk to when I was researching the role. The attention to detail in the series is incredible and the music is just the best: New Order, Human League, Spandau Ballet, The Smiths…"
It's 10 years since you stopped playing Robert Sugden in Emmerdale. Have you seen the new Robert at work? "I haven't, but people tell me about him. They stop me in the street and ask me if I know there's a new Robert [Ryan Hawley] and go on to tell me what's happening. I nod and smile but, you know, it's not my role any more. It's not my show. To be honest, I haven't watched Emmerdale since I left. That's not to say I didn't have the best time there, but in many ways Emmerdale was like my drama school."
So you don't regret leaving? "No. I became an actor because I wanted to play different characters. I feel very fortunate that things have gone well and I've been in wonderful productions like Kingdom, Happy Valley, The Syndicate and, now, Brief Encounters.
Brief Encounters, ITV
Get the latest updates, reviews and unmissable series to watch and more!
Thank you for signing up to Whattowatch. You will receive a verification email shortly.
There was a problem. Please refresh the page and try again.