Jane McDonald reveals how Corrie star Shayne Ward 'blew her away' with his singing on her new show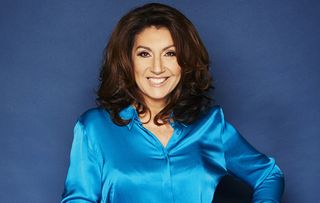 Singer and actress Jane McDonald says Shayne 'needs to go out and sing' as she reveals what's in store in brand new night entertainment series...
Yorkshire-born Jane McDonald rose to fame in 1998 on hit BBC show, The Cruise. Since then the singer and actress has rarely been off our screens, appearing as a regular panel member on Loose Women for ten years, presenting ITV's Star Treatment and the popular TV series, Cruising with Jane McDonald on Channel 5, which was recently nominated for a National TV Award.
Following the success of her recent festive entertainment show, Jane and Friends At Christmas, she's at the helm of a brand new five part series, which sees her sing her favourite hits and introduce a host of fellow singers who perform, including Bonnie Tyler, Shayne Ward, Elkie Brookes and Russell Watson.
Here, the 54-year-old tells TV Times why it's a dream come true for her, how she ended up on a trampoline and what her perfect weekend would be...
Jane McDonald talks to TV Times
TVT: Tell us about some of the guests you've got on?
Jane McDonald: "They're all people who I've worked, toured with or interviewed before. They really are my friends, hence the title of the show. There's Tony Hadley from Spandau Ballet. Tony and I go back a long way! Bonnie Tyler, Shayne Ward, Alexander O'Neal, Shane Filan from WestLife, Elkie Brookes, that's a just a few of the guests.
I've met them all before apart from Elkie who is an absolute hero of mine. I used to sing her song Lilac Wine and Don't Cry Out Loud in the clubs and it always brought the house down."
Jane would like to see Shayne Ward sing more!
TV Times: What can viewers expect from your new series?
JM: "It's a nod back to the 70s and 80s when there was always a big Saturday night show on the telly where big stars came on to perform. Lulu, Cilla Black and Tom Jones all had their own shows back then and the whole family would sit down and watch. Mine is similar, it's the chance for fabulous singers to come on and perform with dancers and a live orchestra in front of an audience and tell us what they're up to. When Channel 5 told me they wanted to do it I was like 'Whoo hoo'. I'm so happy to be given the chance to make something with such amazing people. It's a dream job and real feel good TV which I think we need right now."
TVT: What was it like meeting her face to face?
JM: "She was just lovely and so unstarry. I thought she'd have an entourage but she just came in by herself and gave me a big hug and when she sang, she knocked it out of the park! And Shayne Ward, what a voice! He blew us all away and he's such a nice fella. He's a great actor but he needs to go out and sing because he's exceptional."
TVT: The series also sees you meeting local people and trying out new things. Tell us about that…
JM: "I meet unsung heroes who are vital and much loved parts of their communities and have changed peoples' lives in a lot of ways. In the first episode you see me meeting a lovely guy who is an instructor at a trampolining exercise class called Jiggy Jumps. So of course I ended up having a go myself. It was great fun but exhausting! I could see why they've all lost so much weight doing it. I might have to join the class. The outfit did it for me, when they said I could wear a tutu I was straight in there."
TVT: What else do you have a go at?
JM: "I try line dancing, which I'm really rubbish at. You think, 'Line dancing? Oh that will be a walk in the park', but there's all these intricate little steps and turns. I was terrible. And I go on a school trip and have school dinners with a lovely bunch of children."
TVT: And you have special guests from the public in the audience…
JM: "Yes, it's a lot like the live shows I do. I'll dedicate songs to people whose families or friends have nominated them. In the first episode there's a lovely lady called Beryl who's had a tough time since losing her husband. Her daughters were in bits when I sang to her. That's the nature of the show, one minute we'll have you crying your eyes out and the next we'll have you up and dancing a disco medley."
TVT: How have you enjoyed doing your most recent series of Cruising With Jane McDonald?
JM: "It's a joy to do, I go travelling the world and I have such a great team that work with me, it's a real hoot. Going to Mississippi was incredible, I went on a paddle steamer and it was like going back in time. I'll never forget it. And I've been to places I would never have imagined: Cambodia and Vietnam, Iceland where I saw the Northern Lights and went whale watching. I would never have picked these places to visit myself so doing them for a TV show has been amazing and made me think why haven't I thought about going here, or doing that before?"
TVT: What destination is still on your cruising wish list?
JM: "The Fiji islands, the South Pacific because I've seen it on the telly. I'd like to explore there."
TVT: You starred in the musical Cats for Andrew Lloyd Webber. What was that like?
JM: "That was one of the highlights of my whole career. When you get a nod from Lord Andrew Lloyd- Webber it just makes you feel slightly different about yourself. I have a great deal of admiration for him and thank him for making me feel so wonderful playing that part. It was a real honour. To be able to go out and belt out Memory every night on stage was amazing."
TVT: You always look so glam on stage and TV. What are your beauty tips?
JM: "Get a really good make up artist (laughing). If you saw me now, you'd think, 'What the heck is that?' Having a team of people who make your hair fabulous and your make-up look good is my tip! I can't do it myself, I'm rubbish."
TVT: What would your perfect weekend be if you've got no work on?
JM: "Doing absolutely nothing! A good box set and something bubbling away on the slow cooker. I am the most boring person you've ever met when I'm not working. I feel a bit sorry for my partner Eddie, really. I'm all glitzy on telly, then I come home and look nothing like that and am boring!"
TVT: Which of the Loose Women do you still manage to see?
JM: "All of them but we're all so busy. We've all got our different careers but we do stay in touch. I'm way out in the Yorkshire wilds so any spare days when I'm not working, I spend with Eddie, or my mum. I can't really say to them, 'I'm just nipping off down south to see me mates.' I've got my priorities here. But Loose Women, it's a ten year friendship that will probably be there forever."
TVT: What life lesson is important to you?
JM: "Enjoy what you do and for me, it's remember why you do it. It's easy to get bogged down with the business side of showbusiness so it's important to remember where I've come from, and why I do what I do. To me being a club singer or a cruise ship singer felt like a huge success because I was doing the thing that I absolutely loved. Getting up on stage night after night, that's what I adore. It's important to remember that."
Jane McDonald and Friends starts on March 9th, Channel 5, 9pm
Shayne pic: Steve Meddle/REX/Shutterstock
Get the latest updates, reviews and unmissable series to watch and more!
Thank you for signing up to Whattowatch. You will receive a verification email shortly.
There was a problem. Please refresh the page and try again.