Jane Seymour joins the cast of Sky 1's Hooten & The Lady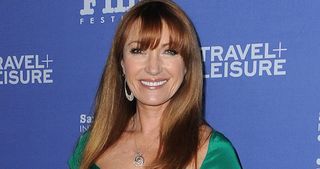 (Image credit: AFF)
It's been announced that Jane Seymour has joined the cast of a new eight-part adventure series for Sky 1.
Made by the same team who brought us the BBC1 dramas Death In Paradise and Dickensian, Hooten & The Lady follows the nail-biting escapades of maverick adventurer, Hooten, and fearless historical expert Lady Alexandra, who travel the globe in search of hidden treasures from the past.
Each hour-long episode follows the duo on an epic new adventure through jungles, deserts and underground cities – from the mythical Amazonian golden City of Z to the Buddha's missing scroll and the tomb of Alexander the Great.
Filming has already started on the series, with previously announced cast members Michael Landes (CSI, Love Soup) as Hooten and Ophelia Lovibond (Elementary, W1A) as the 'Lady' of the title, Lady Alexandra Lindo-Parker.
Seymour, best known for her roles in the 1973 James Bond film Live & Let Die and 1990s TV drama Dr. Quinn: Medicine Woman, will play Lady Tabitha Lindo-Parker, the fun and daring mother of Lady Alexandra.
It's also been announced that Jessica Hynes (W1A) and Da Vinci's Demons star Shaun Parkes, have also been cast in the drama as Lady Alexandra's colleagues from the British Museum, along with Broadchurch actor Jonathan Bailey.
"The role of Lady Tabitha is a great part to sink my teeth into – she's not your average society woman, and has a keen sense of fun and effortless charm," said Jane. "She would certainly be first on the invite list to any dinner party!"
Thank you for signing up to Whattowatch. You will receive a verification email shortly.
There was a problem. Please refresh the page and try again.