Jason Connery's licence to grill in Celebrity MasterChef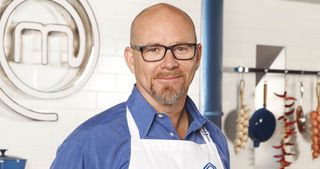 (Image credit: BBC/Shine TV)
His dad Sean may be everyone's favourite James Bond, but Jason Connery hopes to pull off some impressive stunts of his own during Celebrity MasterChef (opens in new tab) (BBC1, Wednesday, July 2), as he tells TV Times magazine (opens in new tab)...
Is your dad a wiz in the kitchen?
"No, cooking is not Dad's thing. He has only ever cooked me one meal so I remember it clearly! Dad had a campervan which he drove around and lived in during filming and I visited him once when he was making the 1975 movie The Man Who Would Be King. He fried me a steak and grilled tomatoes – it was the only meal he cooked me, but boy, was it good!"
It's nice to see you back on our screens – it's been too long!
"Funnily enough, that's why I was roped into Celebrity MasterChef. I still do some acting, but mostly direct now and live in LA so I can be close to my 17-year-old son, Dashiell. I have an English agent though and the producers rang and said, 'We'd love to see Jason back on our screens. Does he cook?' I nearly wet myself!"
Good excuse to come home then?
"Exactly. I miss the humour and my friends and I love cooking, so why not? We don't get MasterChef in America, but I watch it on YouTube and am completely engrossed. The clincher was the fact I'd be doing it with my great friend Charley Boorman. We met in 1973 whilst our dads [Charley's dad is the director John Boorman] were making the film Zardoz together and ended up doing a film ourselves in the 80s, Little Nemo, living together in Paris for 12 weeks. I'm godfather to his daughter so it was wonderful to spend time with him and his family."
Are you two competitive?
"We're great mates – but yes, we are! We helped each other out though before the competition began. Whenever I'm in England I go to his place and cook for him and this time I was like, 'I can't cook puddings!' so he taught me cheesecake. We also tried out our menus on each other, but we both want to win of course."
How do you get on in the Mystery Box test?
"I've starred in West End shows, in front of 5,000 people, but nothing's scarier than standing in front of a box, saucepan in hand, being told to cook in 75 minutes. We have to make our own version of fish and chips; I go in a blind panic and do too much. Every time they put something in front of me I just cook everything!"
Do you survive the professional kitchen?
"It's like something out of Keystone Cops! We went to Lanes of London restaurant, where the kitchen was 200 degrees and kept making my glasses steam up, much to everyone's amusement. I had to do a papaya salad which I thought would be a doddle, but so many orders came in that the lovely chef turned into Gordon Ramsay on steroids. He was screaming and shouting; it was so hot I fell over; I picked up a pan and burnt myself – it was crazy. Charley and Kiki Dee just stood there laughing! I'm really enjoying the show though and just want to learn as much as I can."
What are your childhood memories of food?
"I lived with my mum [Diane Cilento, who was Sean's wife from 1962 to 1973], sister and cousins on a self-sufficient farm in Wiltshire as a kid. It was sort of a commune and I'd milk Buster the cow, feed the pigs and sheep, that kind of stuff. I remember Mum making extraordinary meals out of different flavours, like lamb with tomato chutney sandwiches – when all I wanted was peanut butter like my mates!"
Did she inspire you to cook?
"Yes, I grew up watching her and also my Dad's wife, Micheline, who's French and a really good cook. She makes the best lemon chicken I've ever tasted. I started cooking out of necessity when I left school and moved into a house with two guys who thought avocados should be cooked in the oven! I thought it was best if I took over and it'd also get me out of the washing up. Now I cook regularly for my son and love having dinner parties. I don't have the calm, meditative feeling I usually get from cooking being in this contest though!"
Have you ever cooked for your dad?
"Oh yes. He lives in the Bahamas and I've done the Christmas turkey with potatoes and roast parsnips. I've told him I'm on Celebrity MasterChef, but as they don't get it in the Bahamas, I'll download it so they can watch that way. Dad's incredibly supportive of what I do, especially my next project, directing a film about golf pioneers Old and Young Tom Morris, called Tommy's Honour. It's in Scotland later this year and what with Dad being a Scot and knowing the story and St Andrews so well he's been very helpful."
Do you fancy any TV acting while you're here?
"Well, a lot of people watch Celebrity MasterChef so maybe something will come from it. A ridiculous comedy perhaps!"
Get the latest updates, reviews and unmissable series to watch and more!
Thank you for signing up to Whattowatch. You will receive a verification email shortly.
There was a problem. Please refresh the page and try again.