Joe Tate MURDERED! Emmerdale's Ned Porteous on his shock exit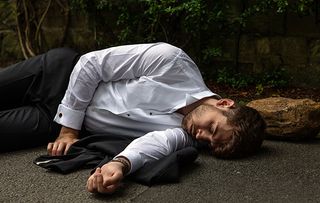 Joe was murdered tonight by assistant Graham Foster
Emmerdale's Joe Tate is dead! In shock scenes that aired tonight, he was murdered by his right hand man, Graham Foster, under the orders of Kim Tate, who vowed to hire a hitman renowned for torturing his victims if Graham didn't do as he was told.
At first, it looked like Cain Dingle had killed Joe when he punched the buff businessman for leaving Debbie at the altar. As Joe fell to the floor, he hit his head on a rock and was pronounced dead by Graham, who said he would dispose of Joe's body.
But as Graham loaded a lifeless Joe into his car boot, Joe's fingers twitched, signalling that he was still alive. Graham was then seen at the viaduct with an empty boot, breaking down in tears after finishing Joe off. Meanwhile, Cain was left guilt-ridden, wrongly believing that he had murdered the love of his daughter Debbie's life. And sneaky Graham failed to put him straight...
Here, actor Ned Porteous talks about Joe Tate's sticky end, and his plans to conquer America…
So is Joe Tate now dead and gone?
Ned Porteous: "Yes, and such a lot happened in those last episodes. You saw Cain strike Joe to the ground. It initially appeared he was dead and Graham appeared to think so, too, up until that pinnacle moment when Joe's finger twitched in the car. However, Graham knew he had to get rid of Joe. It looks like he was the one that ultimately ended Joe, but Cain unwittingly thinks it was him who killed him. Will Cain take the fall for it?"
How did it feel filming those final scenes?
NP: "It was tremendously exciting as there had been a lot of build up to this point. We knew the course of this storyline for a good deal of weeks beforehand, so we had a lot of time to emotionally prepare for what was going on in the scripts. But I think I personally just focused on the work and concentrated on just producing some really good final scenes.
"I don't suppose I really had thought too much about the fact I was actually going to be leaving, and maybe I wasn't quite emotionally prepared. But everyone was just so bloody lovely on my last day; it was a little emotional."
Has it been hard keeping your exit a secret?
NP: "Yes and no. Of course, people are always stopping you and asking you what is going on in your storyline. It is one of the main things about working on a show like this that you are constantly keeping your storyline secret. I think it's for the benefit of everyone. It just becomes part of what you do and it becomes quite easy."
During your time on the show, you had some massive twists, the first being that "Tom Waterhouse" was in fact Joe Tate. Was that fun?
NP: "This was the thing, as I feel like I had a chance to play two characters whilst I was on Emmerdale. Firstly, I had the Tom Waterhouse character and then the big reveal of the pseudonym. So yes, I suppose Joe managed to pack a lot of drama in during his short time in the village!"
So what are your plans now that you have left Emmerdale?
NP: "I want to move back to London and I want to do a bit of travelling. I haven't had a holiday for a very long time so I'm desperate first to get out to America. I've got management out there so I want to try my hand with the American casting system and then go on a little holiday. I will turn my phone off, go climbing, go camping, go fishing."
Have you taken a souvenir from Emmerdale?
NP: "I actually didn't take anything in the end, however I did have my eye on a few bits of costume I wanted to grab. Due to the last couple of days being spent working away on location, I didn't have time to organise it. I ended up just filming the scenes then saying my goodbyes to everyone. I then moved my stuff and moved down to London.
"Thankfully, a few of the cast got me some really lovely thoughtful going away gifts, so I will be able to keep them forever and cherish them. That was really nice."
Do you have a particularly fond memory of your time on the show?
NP: "Without sounding cheesy, there are so many. I suppose the most memorable was when we did the quarry cliff stunt out at Chorley; that was two amazing days as it felt really different. We were away from normal Emmerdale and were out on location. We were all staying together at a hotel and it felt like we were all on a sort of action-filled school trip. That was so much fun. It has been amazing to film things like that."
Emmerdale continues on ITV.
Get the What to Watch Newsletter
The latest updates, reviews and unmissable series to watch and more!
Alison Slade has over 20 years of experience as a TV journalist and has spent the vast majority of that time as Soap Editor of TV Times magazine.
She is passionate about the ability of soaps to change the world by presenting important, issue-based stories about real people in a relatable way.
There are few soap actors that she hasn't interviewed over the years, and her expertise in the genre means she has been called upon as a judge numerous times for The British Soap Awards and the BAFTA TV Awards.
When she is not writing about soaps, watching soaps, or interviewing people who are in soaps, she loves going to the theatre, taking a long walk or pottering about at home, obsessing over Farrow and Ball paint.