Poirot star John Malkovich: Why I didn't read The ABC Murders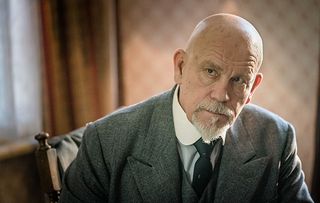 (Image credit: BBC/Mammoth Screen/Agatha Christ)
John Malkovich reveals all about showing the darker side of Agatha Christie's Belgian sleuth Poirot in The ABC Murders
John Malkovich is stepping into the dapper shoes of Hercule Poirot this Christmas. The Hollywood star will play Agatha Christie's Belgian sleuth in a three-part adaptation of The ABC Murders. The drama finds Poirot troubled by his past and also by a series of sinister letters signed 'ABC', which signal the start of a murderous spree by a serial killer who is targeting victims around the country in alphabetical order.
Here, John Malkovich tells TV & Satellite Week why he will be a very different Hercule Poirot in The ABC Murders…
TV & Satellite Week: What's your take on Poirot?
John Malkovich: "It's always evolving but he isn't happy. He is quite forgotten and the world has passed him by. You see some of his backstory and he's an old man with a past."
TVSW: Do these letters make the case personal for him?
JM: "Very much so. He has to decide, 'Is this someone I know?' Is it someone who hates him or is there a less obvious motive? It's difficult for him. There are people who aren't suspects who very much should be…"
TVSW: Did you read The ABC Murders?
JM: "Agatha Christie was a gifted storyteller and observant about people's peculiarities. But many years ago I stopped going back to source material. If we're going by the book then I can't do it – I'm not 5 feet 4 or Belgian!"
TVSW: Is it daunting playing a character who is so well known though?
JM: "There are lots of versions of Poirot already, all with different points of view and some seriously good actors have done it before but that can't be a reference for me. You have to find your own way."
TVSW: Poirot is famed for his spectacular moustache but you have a goatee, how much say did you have in his facial hair?
JM: "None! I spoke with the director while I was on another job and he said, 'I want you to look the way you look now.' Every time it has been done the moustache has had a lead role. That's great, but it doesn't in this interpretation and that's fine!"
The ABC Murders airs on Boxing Day, Thursday 27 December and Friday 28 December at 9pm on BBC1
Get the latest updates, reviews and unmissable series to watch and more!
Thank you for signing up to Whattowatch. You will receive a verification email shortly.
There was a problem. Please refresh the page and try again.