John Torode: seven things TV has taught me!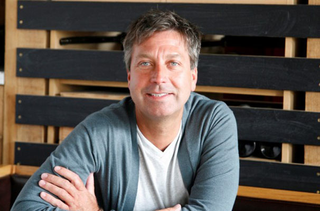 MasterChef's John Torode is celebrating 20 years on TV with a new series, John Torode's Malaysian Adventure (Good Food, weeknights).
Here, John reveals to TV Times what he's learned from two decades on the box…
1. Put yourself out there
"If you want to do anything in life, you've got to be bold enough to stand out. That's how my TV career began. I was a young chef working at Mezzo in London when a TV crew came in to do some filming. As they left I said to the producer, 'If you need anyone again for TV, I'm up for it!' Next thing I know, I'm on This Morning."
2. No one is indispensable
"Saying that, stay humble. A chef once told me to put my hand in a bucket of water and pull it out to see what impression I left. Of course, there wasn't one. 'That's the impression you make on the world. That's how indispensable you are,' he said. As a chef, you're only as good as the last plate of food you cooked, and it's the same on TV: you're only as good as the last series you made."
3. Luggage is very important
"Since making John Torode's Australia and visiting Argentina for A Cook Abroad, I've learned that sturdy suitcases are vital for arriving camera-ready. People assume we have stylists – oh no. You roll off the plane and start filming, so you better have rolled and folded your clothes properly."
4. You never stop learning
"I make a really good Rendang, but didn't know much about Malaysia before I went to make John Torode's Malaysian Adventure – the food is bloody awesome! Great food is often borne out of religion and occasions, so with the mix of Chinese, Indian and Malay people all living in one country you can imagine how diverse the food is. I loved travelling through bustling Kuala Lumpur and adored Penang's vibrant street food."
5. Double acts work if you don't socialise together
"What's great about Gregg [Wallace, his MasterChef co-host] and I is that we lead completely separate lives. We've never been to each other's house, we dress differently, drive different cars – and as such we've kept our own opinions. We disagree not because it's good telly, but because we genuinely have different likes and dislikes. Spend too much time together and you lose your personality. That's why The Two Ronnies were such a good double act – they were so different. As are Gregg and I. I've got hair!"
6. Famous people get starstruck
"People in showbusiness are put on pedestals, but they're often just normal folk. I remember Tony Hadley coming on Celebrity MasterChef: I was in complete awe until he said, 'You and Gregg are Gods, you're brilliant!'. I was like, 'What?! You've got to be joking, mate!' You think they're famous and they think you're famous – there's a clash of who cracks first and gets over it. I do love the celebrity version because you get to see the real person. They can't cook unless they drop their guard!"
7. There's plenty of room for all us TV chefs
"Travelling for foodie shows has made me realise how much we don't know – it's there to be discovered. That's why it's great that Rick Stein adventures around Turkey or I jump in a car and race around South America or Malaysia. There's so much to see, so many lessons to learn that we'll never run out of places to go, nor harbour any rivalry. We're cooks – not rock stars!
"For me, food and travel works beautifully because seeing the pineapple curry I cook in Penang makes viewers feel they're going on an adventure of their own. The news informs, we offer escapism. Who doesn't love that?"
Get the latest updates, reviews and unmissable series to watch and more!
Thank you for signing up to Whattowatch. You will receive a verification email shortly.
There was a problem. Please refresh the page and try again.