Joy | Film review - Jennifer Lawrence's charismatic mop inventor cleans up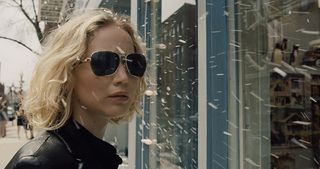 (Image credit: Courtesy Twentieth Century Fox)
Jennifer Lawrence teams up again with director David O Russell for Joy, an off-kilter comic biopic of Joy Mangano, the homespun inventor of the 'Miracle Mop', and if the results don't quite have the same giddy dazzle as their previous efforts, Silver Linings Playbook and American Hustle, the film does show off its star's effervescent charisma to great effect.
Every bit as gutsy and resilient as her Hunger Games heroine, Lawrence's Joy is a hard-up Long Island single mother who has to overcome the ambition-stifling efforts of her chaotically dysfunctional family, as well as several unscrupulous business associates, in order to make a go in the early 1990s of her notion for a self-wringing mop.
Russell takes a typically skew-whiff approach to Joy's tale, giving a voice-over narration to her supportive grandmother Mimi (Diane Ladd), despite the fact that she dies fairly early on, and occasionally filtering events through the surreal prism of the outlandish TV soap to which her bed-bound mother (Virginia Madsen) is addicted.
I'm not convinced that Russell entirely pulls off all of his film's offbeat flourishes, but there is much to enjoy along the way, including vibrant supporting performances from Robert De Niro as Joy's meddlesome father Rudy and Isabella Rossellini as her wealthy backer (who happens to be her dad's latest girlfriend), although Bradley Cooper seems a tad subdued as the suave QVC home-shopping executive who gives Joy's invention a boost.
Inevitably, it's the mesmerising Lawrence who does the most to hold things together, engaging our sympathy for her plucky underdog so wholeheartedly that we can't help rooting for her to clean up.
Certificate 12A. Runtime 124 mins. Director David O Russell
http://www.youtube.com/watch?v=uR-2TiQVY-k
Get the latest updates, reviews and unmissable series to watch and more!
Thank you for signing up to Whattowatch. You will receive a verification email shortly.
There was a problem. Please refresh the page and try again.