Kate Humble: 'Wild Things could be the end of my career!'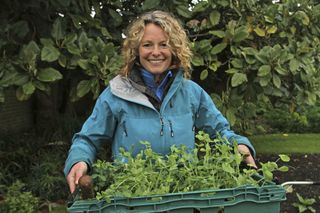 (Image credit: BBC/Lion Television Ltd/Laura Rawlinson)
If you tuned into Sky1's new game show Wild Things on Sunday night you probably saw wildlife presenter Kate Humble in a whole new light.
Talking to What's on TV Kate revealed, she can't believe the turn her career's taken either.
Kate said: "When Wild Things was first proposed to me I thought it was a joke! It wasn't until I was sent a taster clip I realised it was a serious commission.
"After seeing the clip I knew I really wanted to do it, although it could be the end of my career!"
In a nutshell, pairs of contestants must complete a tricky forest obstacle course, collecting gold coins along the way, to be in the running for a £10,000 prize. But there's a sting in the tail – one person must dress up as an oversized woodland animal and be guided by their partner through the muddy, wet and sometimes-electrified outdoor challenges!
It's a first for outdoors girl Kate, who co-hosts the series with Irish comedian Jason Byrne, but she reckons it's as much a study of people as it is a wacky piece of entertainment.
Kate said: "The idea of pairing up two people who know each other well, whether brother and sister or husband and wife, is brilliant. The person dressed up is completely blind and helpless while the person guiding them also suffers. Naturally they end up winding each other up something rotten!"
She laughed: "It's also just wonderfully funny to see a giant stag hitting a giant duck over the head with a cherry! It's an utterly daft study of human nature wrapped up in the guise of It's a Knockout or Total Wipeout, and I laughed by socks off!"
Wild Things is on Sundays at 7pm on Sky1.
Get the latest updates, reviews and unmissable series to watch and more!
Thank you for signing up to Whattowatch. You will receive a verification email shortly.
There was a problem. Please refresh the page and try again.