Keeley Hawes: 'Everybody has a secret in Traitors'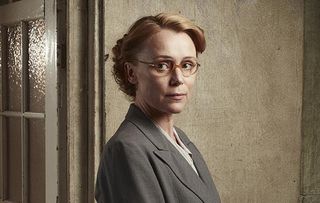 (Image credit: Jay Brooks)
Keeley Hawes spills the beans on her new post-war espionage drama Traitors
Following her stellar performance in Bodyguard, Keeley Hawes is back in the world of dark political intrigue in C4's tense espionage drama Traitors. The series is set in 1945 as World War Two ends and the Cold Ward beckons. It centres on ambitious young Feef Symonds (Clique's Emma Appleton) who joins the Civil Service and comes under the watchful eye of enigmatic Cabinet Office under-secretary Priscilla Garrick, played by Keeley.
Here, Keeley Hawes reveals all to TV Times about her new post-war C4 spy drama Traitors…
TV Times: Tell us about your character…
Keeley Hawes: "She works as a civil servant with the Prime Minister doing all of the nitty-gritty so it's a stressful job but she's very ordered and the only woman. She's not married but she's been in a relationship that she keeps private…"
TVT: Can we expect lots of surprises?
KH: "This is one of the trickiest shows to talk about because everybody has a secret and I tie myself up in knots! There's all sorts going on. It feels similar spying-wise to when I did [BBC1 spy drama] Spooks when you're walking down the corridors talking fast! But that was so modern. This period feels like a different place, it's a man's world."
TVT: Why is this era so fascinating?
KH: "It's really interesting. There's a marriage ban so women must go back to looking after their husbands and homes when they've spent the war stepping up but Priscilla's a champion of women and gets involved. But this era is just the start of things. The Civil Service managed to create the benefit system with a shortage of paper and pencils and no computers. It's phenomenal they came out of the ashes."
TVT: What have been the most challenging scenes?
KH: "For me it was singing – that was challenging for everybody who had to listen! Priscilla's involved in the Gilbert and Sullivan society, which is a fantastic outlet in this high-pressured job. I can hold a tune but I haven't sung for years. We had a bash though!"
You've been so busy lately with Bodyguard and Mrs Wilson and you've got BBC2 drama Summer of Rockets and the last series of ITV's The Durrells on their way…
KH: "Yes, The Durrells is interesting this time because I'm an executive producer. It's fun, you think about things in a different way and I can tell everyone what to do!"
Traitors begins on C4 on Sunday 17 February at 9pm
Get the latest updates, reviews and unmissable series to watch and more!
Thank you for signing up to Whattowatch. You will receive a verification email shortly.
There was a problem. Please refresh the page and try again.