Kelly Rowland defends Misha over bullying claims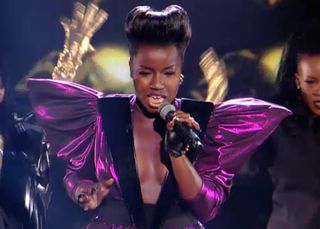 X Factor judge Kelly Rowland has defended finalist Misha B after the other judges accused her on Saturday night's show of 'bullying' other contestants backstage. Speaking on spin-off show The Xtra Factor, Kelly said that the 19-year-old was in fact very "humble" and "excited" about being in the finals of the show. "I think that Misha's talent speaks for itself," she said. I think that she's a girl that is excited about this opportunity. She really has a great talent, you cannot deny her talent. She comes on stage and brings it every week." "I think Misha will continue to learn different things, the way I'm teaching her, she's a sponge and takes everything in like that," Kelly added. And the former Destiny's Child singer later took to Twitter to further emphasise her point. "I just want everyone to know that @MishaBRYAN is one of the most gracious and humble girls I know, as are @JanetJealousy and @sophiehabibis!' she tweeted. Misha faced the accusations on Saturday night after she ended the rock-themed show with her rendition of Prince's Purple Rain. Tulisa claimed she had been "mean" to other contestants behind the scenes, while Louis added, "One of my contestants has complained to me about Misha bullying her backstage." However both Kelly and Gary dismissed their remarks, with Gary saying, "I don't care what goes on backstage and we shouldn't be getting involved in that." Misha will learn on Sunday night's results show whether she has made it through to next week.
Get the latest updates, reviews and unmissable series to watch and more!
Thank you for signing up to Whattowatch. You will receive a verification email shortly.
There was a problem. Please refresh the page and try again.