FIRST LOOK: Kerry Howard stars in Keeping Up Appearances prequel Young Hyacinth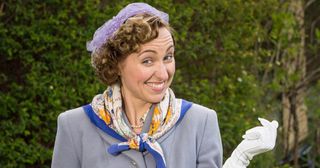 (Image credit: BBC/Colin Hutton)
The BBC has released the first pictures of Kerry Howard as Hyacinth Bucket in the one-off Keeping Up Appearances prequel Young Hyacinth
Keeping Up Appearances will return for a one-off prequel called Young Hyacinth, and preview photos offer a glimpse of Kerry Howard as Hyacinth Bucket.
Written by the original creator Roy Clarke, Young Hyacinth tells the story of her early adulthood and is due to be broadcast on BBC One as part of a landmark sitcom season.
One of the BBC's most popular exports, Keeping Up Appearances starred Patricia Routledge as snobby Hyacinth, with Clive Swift as her long-suffering husband Richard.
Hyacinth perennially turned her nose up at her sisters Rose (Mary Millar) and Daisy (Judy Cornwell), and Daisy's husband Onslow (Geoffrey Hughes) in her attempts to bury her working class roots.
Conversely, Hyacinth was not ashamed of wealthy sibling Violet (played by Anna Dawson).
Young Hyacinth is set in the late 1950s and will portray the origins of social climber Hyacinth via her desperate attempts to transform her sisters and her dad (The Full Monty's Mark Addy) into a better class of family.
Violet (The Musketeers' Tamla Kari) dreams of wealth, Daisy (Our Girl's Katherine Pearce) loves the great outdoors, while Rose (Mount Pleasant's Katie Redford) lusts after film stars and boys.
But Hyacinth dreams of the day she'll have matching china. She wishes her father, who is scraping by as a part-time brush salesman with a tricycle and a drink problem, could be more like ex-squadron leader Cooper-Smith, for whom she works as a maid.
Kerry, star of BBC Three comedy Him & Her and sister of comedian Russell Howard, told the BBC: "This is a gift of a part."
Writer Roy told the BBC: "I've been allowed to wander into her background and investigate, almost a piece of archaeology really, until there she was – Young Hyacinth in early blossom. I hope those who knew her in her prime will find as much pleasure in this recreation of her as I have."
Get the latest updates, reviews and unmissable series to watch and more!
Thank you for signing up to Whattowatch. You will receive a verification email shortly.
There was a problem. Please refresh the page and try again.