Kitty Brucknell's mum in X Factor quit row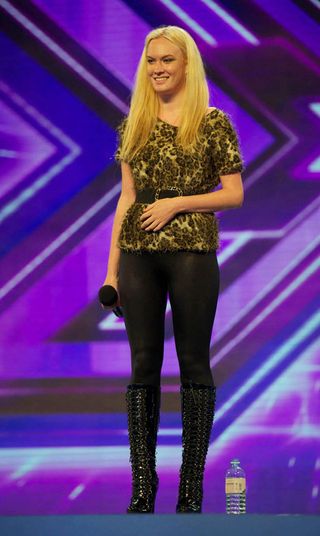 (Image credit: PA)
The mother of X Factor hopeful Kitty Brucknell has reportedly threatened to pull her daughter from the show after claiming she has been turned into a "monster" and a "panto villain". Angela Mary Edwards told the Sunday Mirror that she was shocked at how the 26-year-old was portrayed in the show - and also said that she was treated badly by the other contestants at boot camp - who branded her a diva and compared her to last year's finalist Katie Waissel. "It's very distressing to see Kitty being put under so much pressure and getting upset," she said. "If something happens and it looks like it's getting too much for her I will not hesitate to tell her enough is enough because it's unfair to let her keep suffering. "Kitty's being turned into a pantomime villain and I bet it hasn't happened to anyone else. She's being portrayed as a monster and it's not fair. If she does get to the live shows no one will vote for her at this rate." The 66-year-old added that despite Kitty's confident image she was nervous before auditions. "Kitty may seem super-confident on stage but she will be shaking like a leaf inside when she stands in front of those judges," Angela revealed. "She doesn't deserve to be painted as this ruthless person because she is not. Her dream is to sing. I hate it when people say she is fame-hungry because she is just very driven. It's too hard seeing her cry." Kitty - who was seen arguing with fellow hopeful Honey Shazad over a song choice on Saturday night's boot camp show - admitted to the paper that she had had a hard time during that stage of the competition. "I didn't like Boot Camp, people were nasty to me. It was very upsetting because I was getting teased all the time," she said. "I don't really know why but I think it is down to jealousy."
Get the latest updates, reviews and unmissable series to watch and more!
Thank you for signing up to Whattowatch. You will receive a verification email shortly.
There was a problem. Please refresh the page and try again.