Survival of the Fittest host Laura Whitmore on sexism: Starting out in my career, I remember feeling worthless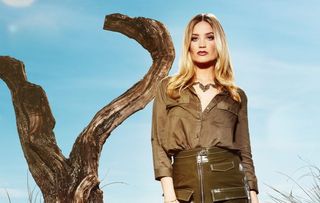 (Image credit: ITV)
Host Laura Whitmore reveals all about her new ITV2 show Survival of the Fittest and how she's faced her own battles as a woman working in the media...
Guys and girls battle it out in South Africa - but will they find romance among their rivals? Host Laura Whitmore certainly thinks so...
In a nutshell, what's Survival of the Fittest about?
"This is the ultimate battle of the sexes. It's boys versus girls and each team has to take on some massive challenges. Added to that, all of the contestants are single and VERY good looking, so who knows what might happen?"
This show has been dubbed 'the new Love Island'. How does it compare?
"I know people are trying to compare this show to Love Island but it's a very different show because of the challenges. It's made by the same team that did Love Island and it will probably be a similar audience that's watching it but it's not just about finding a couple, there's a whole other thing going on. I was a massive fan of Love Island though – it was the first year I'd watched it and I was just hooked."
What can you tell us about the challenges? And who do you think will be better – boys or girls?
"I know the challenges are all really different, so there's everything from the really physical to quizzes. People probably think the guys will be stronger than the girls but some of these girls are physically tough and they can certainly talk the talk. Others might think the women will be mentally stronger than the men. One thing I do know is they're all SOOOO competitive but obviously being a girl myself, I think we're the best!"
In between the challenges, the guys and girls will be paired up to go on dates. Do you think this could cause friction between the teams?
"It'll be interesting to see what happens if a guy is suddenly pitted in the challenges against a girl he fancies – will he let the girl win, or will she let him win? Also, one of the guys might annoy his teammates by spending too much time with a girl he's supposed to be in competition with – or two guys might fancy the same girl!"
Will Callum be the guy all the men want to be - and all the women want to be with?
Will Miriam prove to be the girls' secret weapon against the guys?
How do you think you'd do with the challenges on this show?
"I'm a bit of an adrenaline junkie. I've been skydiving and bungee jumping and snowmobiling; I love all that stuff, so if there was anything like that I'd love it. But, as for mental challenges, I'm that person with a crossword, I can never complete it, there's always one or two answers I don't get, it really annoys me. And then I just end up Googling the answer. So I wouldn't be too good at that."
Have you ever been to South Africa where the show is filmed?
"Never. I've been to Kenya on safari, which is the best thing I've ever done in my life. Where we are filming is on safari grounds, so there will be zebras, lions and monkeys all around us. It's going to be amazing but I do I know it's going to be REALLY hot. I'm Irish and pale and burn really easily… and they send me to Australia for I'm a Celebrity, Get Me Out of Here Now!, MTV sent me to LA and now I'm going to South Africa. I'm like: 'Why do you send me to these places I do NOT do well in?'"
Laura can't wait to start filming in South Africa - but how will she cope in the heat?
Generally, though, do you enjoy filming on location?
"I love it. It's just such a great opportunity to travel. I studied journalism, then did an internship in a news radio station and I never took a year off to travel, so I feel really lucky that I've kind of done that with work. I'm constantly on the go and it's a great way to see the world."
This show is about the 'battle of the sexes' and 2018 has been dubbed the year of the woman…
"I actually think it's the year of equality. I come from a strong female background, I was raised by just my mum, a single working parent, and I was very lucky that I was always led to believe that, even though we didn't come from a lot, that you could kind of do anything you wanted. I think it's great now that women are supporting women and men are supporting women, too. I've got friends who've got little girls and it's great to have them grow up in a world where anything is possible and where you're not afraid to say something because of what someone might think or just because you're a girl."
Have you encountered any sexism in your career?
"I remember when I first started working in a newsroom back in Ireland feeling like I was worthless. I'd get comments like: 'Go and make some tea or coffee'. That's what you have to do starting out anyway but it really felt like you had to work extra hard to prove yourself because otherwise they'll just want to put you in a box."
Do you think this are changing?
"I think there's really been a movement and I feel like, in 50 years time, we'll look back at 2018 and be like: 'That's the time that this change happened'. It's 100 years now since women won the right to vote in the UK, so I feel there is a timely thing happening. There's so much badness in the world and so much negativity that you see on the news, so it's quite nice for a movement like this to happen because, even though it might have sprung up from badness, I feel like it's quite positive and nice to be part of in some way."
Survival of the Fittest starts on Sunday February 11 at 9pm on ITV2, and airs nightly.
Get the latest updates, reviews and unmissable series to watch and more!
Thank you for signing up to Whattowatch. You will receive a verification email shortly.
There was a problem. Please refresh the page and try again.