Leonard Rossiter named in BBC sex abuse claim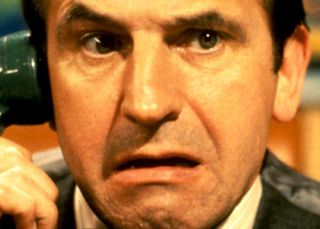 TV legend Leonard Rossiter is the latest person to be named in the sex scandal surrounding BBC stars, after an unnamed victim accused him of watching while he was allegedly sexually assaulted by a trio of corporation staff. The accuser told The Sun that two attempted rapes occurred during the filming of the 1968 play The Year Of The Sex Olympics, when he was 18 - and that Rossiter, best known for such small screen comedy hits as The Fall and Rise Of Reginald Perrin and Rising Damp - was witness to the second. The late actor, who died in 1984, aged 57, has also been accused by the victim of performing a sex act while the alleged assault took place. "I was the victim of two assaults,' the man said. "The second time they obviously tipped off Leonard Rossiter because while I was struggling and shouting for help he was in the room. "He obviously found it all a big turn-on. He was watching with glee. "The staff who attacked me were animals and thought they could get away with anything. It left me devastated and caused great stress. I get so angry just thinking about it." The victim said that nothing was done to help despite complaining to a senior BBC source who was working on the offbeat play. And he described the corporation at the time as a 'cesspit of depravity,' adding, "Staff at Television Centre assumed they could get away with anything. "The fact the BBC didn't investigate the complaints by my woman colleague and me goes to show what the place was like back then." Police have said they are investigating the claim and that arrests may be made. A BBC spokesperson said they could not comment on individual cases and added they would "help the police in any way it can in the course of any investigation." The claims come in the wake of the investigations into Jimmy Savile, who is now believed to have been one of the UK's most prolific abusers, with about 300 possible victims. Scotland Yard is leading a national investigation into the star's activities. Detectives are following 400 lines of inquiry while the BBC has launched an inquiry into the culture and practices at the corporation in the era of Savile's alleged sexual abuse. Comedian Freddie Starr and pop star Gary Glitter, aka Paul Gadd, are among others who have been arrested on suspicion of sexual offences since the investigation began.
Get the latest updates, reviews and unmissable series to watch and more!
Thank you for signing up to Whattowatch. You will receive a verification email shortly.
There was a problem. Please refresh the page and try again.