Lisa Faulkner on her career in the kitchen - and cooking for MasterChef's John Torode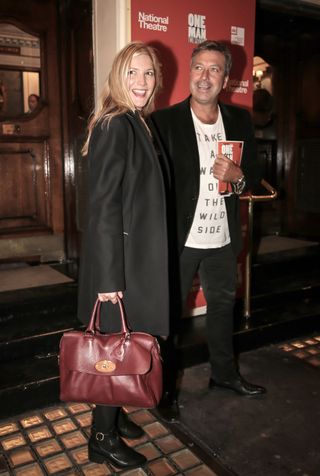 (Image credit: EMPICS Entertainment)
Lisa Faulkner (opens in new tab) has gone to the seaside for Coastal Cottage, a four-part cookery series on ITV's This Morning.
It's been four years since Lisa walked away with the Celebrity MasterChef trophy, and since then her life has changed beyond recognition.
A model and actress who shot to fame in such TV shows as Brookside, Holby City and Spooks, Lisa made a dramatic career U-turn after winning the reality series, devoting a larger portion of her time to cookery.
She's now written two successful recipe books - Recipes From My Mother For My Daughter and The Way I Cook… - and presents shows such as Channel 4's What's Cooking? and regular slots on ITV's This Morning.
Lisa, 41, who has an adopted seven-year-old daughter, Billie, and is in a relationship with MasterChef judge John Torode (opens in new tab), will host a new four-part series on This Morning called Coastal Cottage.
Here, Lisa talks about her new summer-themed cookery strand, her plans for a third book and what John really thinks of her cooking…
So, about Coastal Cottage…
"We filmed Comfort Cottage at the beginning of the year, which was dedicated to comfort foods, and viewers loved it. So we decided to do Coastal Cottage, focusing on seaside foods. I was based at a beautiful cottage in Devon and spent my days making scones and jam, fudge and Cornish pasties. It was heaven," Lisa told the Daily Express.
What's your best cooking advice?
"There are always things left at the back of your fridge or cupboard. One of those is natural yoghurt. I've created some really easy recipes that use it, such as chicken tikka curry and banana muffins."
Do you feel cooking is a better fit for you than acting?
"I've always cooked but I now do it as a job, too, which is fantastic as I feel at home in the kitchen. But I still love acting and if the right script came my way, I'd jump at it."
Do you have plans to write any more cookbooks?
"I'm so proud of my books. Writing them is a real labour of love. And, yes, I'm now in the middle of a third one."
Would you like your own restaurant?
"I always have these dreams, but let's see."
Have you been watching John on the new series of Celebrity MasterChef (opens in new tab)?
"I've been so busy that I haven't had time! I'm going to have to catch up."
Do you get nervous about what you serve John?
"John is the least scary person to cook for."
Who does most of the cooking?
"It depends whether I'm at his house, or he's at mine. Most of the time we go out to eat!"
What's next for you?
"I'm taking some of the summer off to be with Billie. And I'll be finishing my book."
This Morning (opens in new tab), ITV, Monday-Friday, 10.30am
Get the latest updates, reviews and unmissable series to watch and more!
Thank you for signing up to Whattowatch. You will receive a verification email shortly.
There was a problem. Please refresh the page and try again.