Lord Sugar tells Trishna 'You're Fired'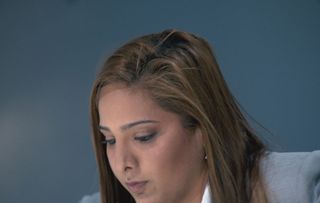 (Image credit: Boundless)
Their latest task to create their own brand of gin was too much for Team Titan, who lost out to team Nebula this week.
The team this week were given the task to create their own brand of gin - tough job!
Both teams, which consisted of Grainne, Trishna and Frances on Team Titan and Courtney, Jessica and Alana on Team Nebula, were sent to distilleries to firstly make the gin and then to bars to sell the gin.
Team Nebula, led by Courtney, opted for a raspberry-infused gin while rivals Titan enjoyed their taste-testing a little too much – with Grainne McCoy and Trishna Thakrar missing 19 phone calls from teammate Frances Bishop.
After a bit too much fun making their own gin the teams were then tasked with pitching their products to wine merchants, a supermarket brand and a pub retailer. But Team Titan struggled through the pitching process - with Team Nebula winning buy a big margin.
After their defeat, Grainne headed into the boardroom with Frances and Trishna where Lord Sugar delivered his final decision.
But it was a hard decision for Lord Sugar: "Frances, I haven't really had a great answer from you as to why you think you have been on the losing side all the time. Trishna, bad moods, having the hump, that's not the calibre of person that I can work with as a business partner."
Trishna tried to defend herself: "Well I can definitely improve on that."
But Lord Sugar was having none of it: "You've had 10 weeks to improve," he told Trishna.
"But Grainne, it is regretful that every time there is an opportunity for you to excel, you haven't. It seems that you didn't have much control over the team and so, I'm struggling quite a bit.
"Frances, well, you can talk very well when you're in here, but I wonder whether you've talked as well when you're out on tasks when you lost eight out of 10 tasks."
Finally it was Trishna who Lord Sugar couldn't see himself working with: "But Trishna, the failure of this task had a lot to do with the colour (of the gin), and that was down to you, and so it is with regret that Trishna, you're fired!"
The winning team who dodged the boardroom firing enjoyed a helicopter ride over London.
The Apprentice is back next Thursday on BBC 1 at 9pm.
Sarah is a freelance writer and regularly writes for publications including Womanandhome.com, Independent, BBC and What to Watch. She mainly writes about health, fitness, TV, and travel.
Sarah loves gritty crime dramas, sitcoms, and reality shows, while she always amazes her friends at how quickly she can binge-watch the latest on-trend Netflix show.
Get the latest updates, reviews and unmissable series to watch and more!
Thank you for signing up to Whattowatch. You will receive a verification email shortly.
There was a problem. Please refresh the page and try again.