Double firing on The Apprentice as Lord Sugar tells Sofiane and Dillon 'You're Fired!'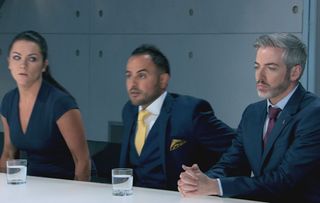 (Image credit: BBC/Boundless)
Two shock firings for Team Titan in BBC's The Apprentice as Team Nebula impress with their creative ideas.
The Apprentice contestants Sofiane and Dillon are the latest to be fired by Lord Sugar.
Sofiane was project manager for Team Titan this week, while Lord Sugar felt Dillon provided no creative input to the project.
This week saw the contestant's design, brand and pitch their own virtual reality video games – but Team Titan's ideas failed to impress. After their defeat, Sofiane (below) bought Grainne and Dillon back into the boardroom with him.
Lord Sugar said of project manager Sofiane: "So many people tell me that you've got no regard for their ideas. You do your own thing, I can't deal with people like that."
He also had views on Grainne's input into the task: "Grainne, on this particular task I don't know what you did, at all. I think you took the opportunity to sit back."
Lord Sugar spoke about Dillon's lack of creativity: "Dillon, you've been labelled the creative person, but at the end of the day this wasn't creative. You know what, Sof disregards instructions, but you're exactly the same I think. I think once you get something in your head, you're not going to listen to anybody."
Then went on to deliver his final verdict: "But in the end it was not a case of hindsight, I keep hearing 'had you had your time again, if you did this again, had you rethought it again' and whilst you are a very, very, very nice person Dillon... I don't think you have the potential to be my business partner… It is with regret...Dillon, you're fired."
But that wasn't the end of his decision, as in a shock double firing Lord Sugar went on to deliver bad news to Sofiane, too: "It's getting very, very close to the end now. Sofiane, you go on your own, you do your own thing… I'm finding it difficult that you are a potential winner, Sofiane you're fired!"
Team Nebula, which included Trishna, Courtney, Jessica and Frances, enjoyed an immersive dining experience at the Chambers of Flavour.
The next episode of The Apprentice will screen on Thursday 8th December at 9pm on BBC One.
Get the latest updates, reviews and unmissable series to watch and more!
Thank you for signing up to Whattowatch. You will receive a verification email shortly.
There was a problem. Please refresh the page and try again.