Everything you need to know about new ITV drama Manhunt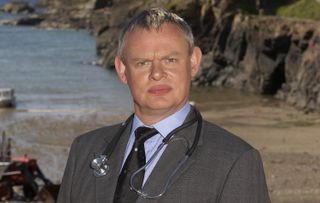 (Image credit: Nicky Johnston/ITV)
Martin Clunes' new drama is based on notorious serial killer Levi Bellfield.
Martin Clunes has been busy filming scenes for new ITV drama Manhunt. Based upon the memoirs of former London Metropolitan police detective DCI Colin Sutton, Manhunt delves into the depraved world of serial killer Levi Bellfield.
Written by Waking the Dead and Silent Witness writer Ed Whitmore, Manhunt isn't likely to be easy viewing, but, according to ITV's Head of Drama Polly Hill, its script is both 'powerful'  and 'compelling'.
The drama will focus on the murder of French National, Amelie Delagrange, on Twickenham Green in August 2004 - and how it transpired this horrific event was linked to the murders of Marsha McDonnell in 2003 and the abduction and murder of Milly Dowler as she travelled home from school in 2002.
Clunes plays DCI Colin Sutton, the lead detective on the investigation. Sutton was a key member of the investigation. Despite being relatively new to murder investigation, he was the one to make the link between Levi's three murder victims, where senior officers failed to.
A release from ITV read, 'Hard working and instinctive, Sutton dedicated himself to finding Amelie's killer.
'With very little evidence, his painstaking approach and the diligence of his fellow officers gradually led to breakthroughs in the case.'
Polly Hill continued: 'ITV has a strong tradition of bringing these important true stories to screen, so we are proud to commission Manhunt from Buffalo Pictures.
'With the full co-operation of ex DCI Colin Sutton, Manhunt dramatises his fight to find Amelie's killer, Levi Bellfield.'
Hill also assured us that we can expect a sterling performance from Clunes.
'I am delighted that Martin Clunes is to play Colin Sutton, in what will be a powerful and unmissable performance.'
The show has already faced some controversy, as filming took place on the exact spot where student Amelie Delagrange was murdered.
Local resident Ken Mason, 81, told The Sun: 'I think it is a bit insensitive, it seems a bit voyeuristic.'
Leigh Chapman, another resident, 53, said: 'It is the fact that it was here and people have already had to go through it and to see the police cars on the green, it brings it all back up again.'
'I certainly won't watch it, there is something about it that has made me feel quite funny about it.'
Filming began in March and Manhunt is expected to air later this year.
Get the latest updates, reviews and unmissable series to watch and more!
Thank you for signing up to Whattowatch. You will receive a verification email shortly.
There was a problem. Please refresh the page and try again.