Coronation Street star Marc Anwar sacked from soap after alleged racist tweets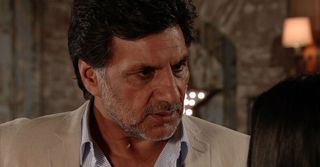 Coronation Street star Marc Anwar - who plays love cheat Sharif Nazir - has been sacked from the soap after an alleged racist attack on Indian people on Twitter.
Coronation Street star Marc Anwar is reported to have been sacked by the soap after an alleged racist attack on Indian people.
The Pakistan-born actor – who plays TV's love cheat Sharif Nazir – branded Indians "b*****ds" and "p**s-drinking c**ts", according to the Mirror Online.
Anwar, 45, fired off a series of tweets in which he also referred to Indians as killers and suggested Pakistanis should refuse to work in the country.
The Sunday Mirror alerted ITV chiefs to the comments and he was sacked within hours.
His comments come amid heightened tensions between India and Pakistan over the divided Himalayan territory, following deadly attacks by militants.
ITV said in a statement: "We are deeply shocked by the entirely unacceptable, racially offensive comments made on Twitter by Marc Anwar.
"We have talked to Marc and, as a consequence of his comments, he will not be returning to Coronation Street with immediate effect."
The actor, who has also appeared in a string of films including Captain Phillips and 51st State, posted the comments on Friday.
In his rant – in which he inserted asterisks in the most offensive words – he said: "Why the F***k do #pakistaniartists want work in #f*** face #india, do you love money so much."
Fiyaz Mughal, director of the charity Faith Matters, told the Mirror Online: "It's unacceptable for anyone today to put material online that targets a segment of a population. You can't just blame a whole group of people for a conflict.
"Marc needs to reflect, and in a way retract what he said, and understand you can't go online and add fuel to the fire.
"I can empathise with the anger and feel nothing is moving, but the best way to relieve that anger is to work with your political leaders.
"If you're on Coronation Street, you're in a powerful position, you have huge influence on social media. If the reverse happened and it was said Pakistanis are bad, he wouldn't like it. It's ludicrous and those comments don't work one way or the other."
The news comes as Anwar's character Sharif is about to embark on a major storyline in which he is blackmailed by his granddaughter Ayla. Sharif has just been exposed as a love rat – having cheated on wife Yasmeen with longtime family friend Sonia.
The star, who hails from Rochdale, Lancs, joined the Street in 2014 and was popular with viewers.
He also appeared in Emmerdale in 2002 as Dr Ajit Devgan, Holby City and Doctors.
The Mirror reported that Anwar was unavailable for comment yesterday.
Get the What to Watch Newsletter
The latest updates, reviews and unmissable series to watch and more!