Alya turns to blackmail reveals Corrie's Sair Khan!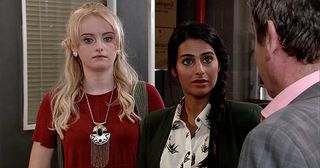 A shocked Alya learns her grandad has cheated on her gran, then decides to see how she can turn the situation to her advantage. Corrie's Sair Khan reveals all…
Alya Nazir has always looked up to her grandad, Sharif… until he's forced to admit he's been unfaithful to her gran, Yasmeen, with family friend Sonia. Now Alya is determined to make Sharif pay…
Is Alya tempted to tell Yasmeen about Sharif's infidelity? "The only thing stopping her is Sharif plays it down so much, tells her it happened long ago and that he has massive regrets. She wants to tell Yasmeen the truth, but she's scared of breaking up the family."
So how does she intend to make Sharif pay? "Blackmail. Alya's trying to set up a new business with Aidan, running alongside Underworld. When Aidan finds the designs of the bespoke basques she made with Sinead last year, he says he has clients who'd be interested."
But there's a catch, right? "The factory is going to need expensive new machinery to recreate the embroidery on the designs. It's a bit more complicated than that, though." Why is it more complicated?
"There are a few aspects to the blackmail. One is that she's furious with Sharif. He's got the cash at his disposal because he's about to buy Sonia a flat, yet he won't invest in his grandaughter. Her main motivation isn't to get herself ahead, it's to punish Sharif."
Has Alya always been ambitious? "Alya's very ambitious and she's always wanted to start her own business. But over the last two years, she's had so many setbacks in her personal life that it's been really difficult for her to achieve her dream."
What makes her tell Sinead her services are no longer required? "It's nothing personal. It's just that she can't afford to have her on board."
Are you enjoying playing this edgier side to Alya? "Definitely. After everything's that's happened to Alya over the last few years, I don't think she'd be really bright and bubbly. She's got to look out for herself."
Coronation Street is on at 7:30pm on Monday.
Get the What to Watch Newsletter
The latest updates, reviews and unmissable series to watch and more!