Martin Freeman explains why he wants you to vote Labour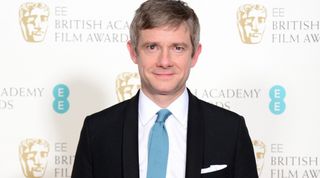 Labour has kicked off its election campaign by recruiting two big-name actors for its first party election broadcasts: The Hobbit's Martin Freeman and Doctor Who's David Tennant.
The short film, due to premiere tomorrow, features Sherlock and The Office star Martin Freeman giving his backing to the party and warning the Conservatives have 'sod-all to offer the young'.
"Really, for me, there's only one choice, and I choose Labour," he declares.
The full clip, which also has a voiceover from Tennant, can be seen here:
http://www.youtube.com/watch?v=JbHNVtsAD2M&feature=oembed
But is Freeman's reasoning enough to win over voters? The reaction on Twitter has been very mixed so far, although Freeman certainly had plenty of supporters.
I really like the broadcast for Labour starring Frodo / Dr Watson . It is about values: community not selfishness.. http://t.co/EyCo0sFJ3h
— Andy Newman (@AndyD_Newman) March 30, 2015
Genuinely like Labour's new Martin Freeman starring PPB http://t.co/9ehfAyljoA
— Mark Ferguson (@Markfergusonuk) March 30, 2015
Others pointed out that there was no mention of Labour leader Ed Miliband.
No mention of Ed Miliband in Labour's election video, I guess Labour are playing to their strengths #Labour #martinfreeman
— Jonathan Blades (@JonathanRBlades) March 30, 2015
Some people were just confused.
oh, MARTIN Freeman. I was thinking of Morgan Freeman. as you were.
— Adam Blake (@MrAdamBlake) March 30, 2015
Not everyone was convinced that a celebrity-endorsed message was really the right way to go about winning voters.
I like Labour's Martin Freeman ad but I'm not sure that 2.45 minutes of just a talking head is a good way to engage the disengaged.
— Briefcase Michael (@BriefcaseMike) March 30, 2015
I like the Martin Freeman, but surely celebrity endorsements debase the whole political debate?
— Jonty Leibowitz (@JontyLeibowitz) March 30, 2015
And some were less enthused by Freeman's message.
Labour presumably using Martin Freeman in their latest advert to say "Look guys rich ppl like us too!!!"
— Jay (@Jay_harris97) March 30, 2015
Well, my opinion of Martin Freeman has just taken a hit. Shame, I really like him in #Sherlock
— Ross Matthewman (@RossMatthewman7) March 30, 2015
Finally – the moment you've all been waiting for – here are the inevitable Hobbit jokes.
Martin Freeman peruses the list of things Labour are going to spend the bank bonus tax on #GE2015 pic.twitter.com/fsdurTVRm5
— General Boles (@GeneralBoles) March 30, 2015
Actor Martin Freeman to star in Labour ad, reports @politicshome – It is unclear whether he intends to make a hobbit of it.
— Oli Barrett (@OliBarrett) March 30, 2015
Get the latest updates, reviews and unmissable series to watch and more!
Thank you for signing up to Whattowatch. You will receive a verification email shortly.
There was a problem. Please refresh the page and try again.