Marvin Humes: My Who Do You Think You Are? slave shock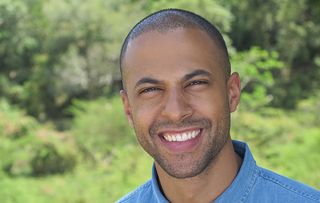 (Image credit: BBC/Wall to Wall/Robin Dashwood)
Marvin Humes on the dark history and wartime heroics he discovered in his family tree in Who Do You Think You Are?
Singer and presenter Marvin Humes has always been intrigued by his complex heritage. But when the former JLS member delved into his family tree for this week's episode of genealogy show Who Do You Think You Are?, he got some surprises. He unearthed tragic tales of mental illness, adultery and slavery as well as the story of a war hero who triumphed over adversity.
Here, Marvin Humes tells TV Times all about his remarkable discoveries on Who Do You Think You Are? including a very surprising slave discovery...
TV Times: Why did you want to take part?
Marvin Humes: "I'm a huge fan of the show. Coming from a mixed race background, there have always been questions. To be able to answer a lot of those was incredible. It was nice to know how you got to be on this Earth and what your ancestors have been through to pave the way to get you to where you are today."
TVT: You travelled to Jamaica to find out why your grandfather Robert, known as Randall, wasn't brought up by his parents Joseph and Mabel. But you were upset by what you learned weren't you?
MH: "When I heard that Joseph cheated on Mabel and deserted her it was shocking. It was a horrible, sad story because Mabel was left in such a bad way that she ended up dying in a mental hospital. The hospital was like a prison and once you went in, you never came out. She'd probably have been a family secret. My granddad wouldn't have been aware, she just disappeared."
TVT: There was another astonishing story in your roots, as your four-times great-grandfather John Williams owned two slaves. Was that tough to find out?
MH: "Yes, I was expecting to discover that my ancestors were slaves but I went on this unique journey. I was shocked because I didn't know that black people owned slaves. Apparently it wasn't common. But he had a big piece of land and you couldn't employ someone on a normal basis there as we do now. I'm not angry, I'd like to think that being a black man himself, knowing what was going on, he'd have treated them with respect."
TVT: Your five-times great-grandfather Edward Brown was a slave though, but his story was also unusual wasn't it?
MH: "Yes, a lady called Sarah Davis paid £160 to buy his freedom in 1818. He was probably a highly-skilled man and there may have been a romantic link between him and Sarah but that was a lot of money. It was a real rollercoaster of emotions being in Jamaica. I learned so much."
TVT: On your mum's side, you look into the life of her grandfather Frederick Buckingham, known as 'Old Man Buckingham' to his family. What did you discover about him?
MH "My mum said he was an old grump but it was no wonder because I found out he had this colourful life that was like Oliver Twist. He was given up by his family at the age of about two and he was in and out of workhouses and got really ill as a child. Then he ended up going to sea. He was in the navy for many years and helped out at the evacuation of Dunkirk. I couldn't believe he was part of that."
TVT: What did you discover when you visited Dunkirk?
MH: "In 1940, he was working on a ship called King Orry that picked up 1100 soldiers. They came under attack by the Germans and several people died and more were injured. But Old Man Buckingham survived and was smiling when he was rescued. He was like a cat with nine lives. His house had been on fire at another point in his life and he had been in trouble with the police. But it was fascinating to find out he was a war hero. I was filled with pride."
TVT: Will it be exciting to show your family what you found out?
MH: "Yes I can't wait to show my girls [Alaia-Mai, five and Valentina, one, with wife Rochelle] when they are older. They'll be fascinated to see their backgrounds. Rochelle and I have both got similar mixed race heritage. I'm pretty sure she'd like to do the show one day herself."
TVT: What's next for you?
MH: "Roch and I have just filmed a pilot show that we are excited about. It's called Play Listers and it's like Beat the Intro where you hear a couple of seconds of a song and you guess what it is. It went well so fingers crossed we'll be on the BBC on Saturday nights!"
Who Do You Think You Are? continues on Monday on BBC1 at 9pm
Caren has been a journalist specializing in TV for almost two decades and is a Senior Features Writer for TV Times, TV & Satellite Week and What's On TV magazines and she also writes for What to Watch.
Over the years, she has spent many a day in a muddy field or an on-set catering bus chatting to numerous stars on location including the likes of Olivia Colman, David Tennant, Suranne Jones, Jamie Dornan, Dame Judi Dench and Sir Derek Jacobi as well as Hollywood actors such as Glenn Close and Kiefer Sutherland.
Caren will happily sit down and watch any kind of telly (well, maybe not sci-fi!), but she particularly loves period dramas like Call the Midwife, Downton Abbey and The Crown and she's also a big fan of juicy crime thrillers from Line of Duty to Poirot.
In her spare time, Caren enjoys going to the cinema and theatre or curling up with a good book.
Thank you for signing up to Whattowatch. You will receive a verification email shortly.
There was a problem. Please refresh the page and try again.