MasterChef judges Gregg Wallace and John Torode reveal the foods they never want to taste again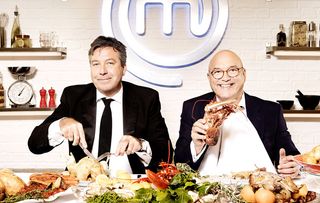 (Image credit: BBC/Shine TV Ltd)
As MasterChef returns for a 14th series, judges Greg Wallace and John Torode talk pet hates, all time favourites and the dishes they never want to see on a plate again!
As MasterChef returns for its 14 series, judges Gregg Wallace and John Torode are back in the studio putting 56 amateur cooks thorough their paces.
Over the course of seven gruelling weeks and a whole range of challenges, including The Critic's test in which the contestants must cook a dish set by one of the UK's top food critics, the hopefuls will be whittled down to three finalists.
TV Times met up with easy-going duo, John and Gregg, who have become such a double-act they enjoy teasing eachother and often finish eachother's sentences, to hear what's in store, what winds them up and which food they NEVER want to see on a plate again...
MasterChef judges John Torode and Gregg Wallace speak to TV Times
TV Times: What are your favourite challenges in this new series?
Gregg: "I loved the contestants cooking for the RAF. We got to go up in a helicopter and get dressed up like middle-aged members of Top Gun! The little boy in you comes to the fore. It was great fun."
John: "Travelling to Peru was interesting. We got to eat llama, and a bowl full of frozen piranha heads."
TVT: What's the thing that annoys you most in the MasterChef kitchen?
Gregg: "When contestants under cook things and then say, 'Yes, but I didn't want to overcook it', like those are the only two options. How about just cooked!"
John: "When someone takes a very expensive product and has no idea how to prepare it. In this series somebody dismembers a kilo of lobster and makes a pasta dish that tastes of tomato sauce. That really upset me."
TVT: What's the secret of MasterChef's success?
John: "The diversity of the contestants. We've got housewives, dentists, surgeons, a rubbish collector a priest, a cathedral organist all in this series."
Gregg: "Yeah, we've got some seriously big characters, you normally get one or two but this time we've got a whole basketful of really strong characters."
TVT: What's been your biggest disagreement on the show?
John: "We've had a quite a few. There are days when we both care about different contestants and things get quite emotional!"
Gregg: "The worst is when you champion a particular contestant and after a lot of debate you convince the other person to put them through only for them royally mess up in the next round! I've seen John almost in tears a couple of times this series."
TVT: What are the foodie trends you've had enough of?
John: "Foams! I call foam "Phlegm" because that's the noise it makes when it's being made and it looks like it too when it's been put on the plate!"
Gregg: "Yes. Foams are out. I can't imagine ever saying, 'Listen guys, I'm starving, why don't we all go out and have a really good foam?'"
TVT: What's been your favourite ever MasterChef dish?
Gregg: "Peter Bayless, our second ever winner, made a Paris-Brest which is a circle of choux pastry with a coffee cream and almonds that was simply stunning. My wife Anne-Marie makes them for me now. And Steven Wallis who was our first ever winner, made the most stunning poached pear with a melted chocolate sauce and chantilly cream. Those are my all time favourite ever MasterChef puddings."
TVT: What MasterChef dish has dazzled you for its creativity?
John: "There's someone coming up who does a dessert like the solar system using a panacotta with various planets around the outside. And another of my favourites is a tribute to George Michael, a dessert called a Careless Whisper, which is very clever."
TVT: How do you unwind when you're not filming or cooking?
John: "I'm a big fan of yoga. My partner Lisa's father is 75 years- old and he can still stand with his legs straight and put his palms down flat on the ground. It's great for flexibility and I really enjoy it. And I cycle a lot. I cycle everywhere."
Gregg: "I play computer games and read a lot of history books. I'm a real book worm. And I go the gym although if I wasn't on the telly and being image conscious I'd probably give myself over to gluttony!"
TVT: What's the most unusual ingredient you've seen on the show?
John: "Over the years we've seen a real explosion of ingredients from all over the world. In our studio we now have whole sections and shelves of Japanese ingredients, Korean, and Malaysian. Things like Xanthan Gum, an alternative to eggs and Agar, gelatin replacement, are also becoming increasingly popular."
Gregg: "It's not just unusual ingredients. It's unusual combinations. Salmon poached in rhubarb, now that was interesting and we've had smoked chicken with a betroot sorbet!"
TVT: How do you stop yourselves from feeling sick after sampling so much food during an episode?
John: "If you start to think about it too much then you feel unwell. We may have had sea bass with artichokes followed by chocolate mousse followed by a rack of lamb with curry sauce on the top of it. There are certain days when you feel like a cocktail shaker where you shouldn't have put the cream in the tequila. Gregg on the other hand, has the constitution of an ox!"
TVT: What are your best foodie hangover cures?
John: "My favourite thing still has to be a bacon sandwich with lashings and lashings of butter, and something hot like some chilli sauce or mustard. Or a Bloody Mary. That's probably better: a big fat Bloody Mary.
Gregg: "I don't drink very much so I tend not to have hangovers."
TVT: What's the best advice you could give to a MasterChef hopeful?
Gregg: "Practice what you're not good at. Don't continually do what you ARE good at because you're going to need an all round and broad cookery education."
John: "The people who do really well on MasterChef always understand their style. Understand your style, stick to your guns and do it with finesse."
MasterChef returns to BBC1 on Mon 26 February, 9pm
Get the latest updates, reviews and unmissable series to watch and more!
Thank you for signing up to Whattowatch. You will receive a verification email shortly.
There was a problem. Please refresh the page and try again.