Mathew Baynton: 'Yonderland is full of naive, wide-eyed idiots'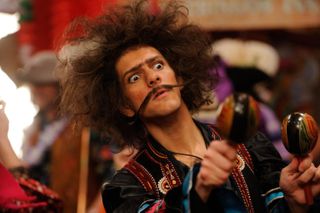 From the makers of CBBC's Horrible Histories comes Sky1's new puppet-filled fantasy comedy, Yonderland (Sunday, November 10). Here, star Mathew Baynton (The Wrong Mans) talks filming with puppets and being cheeky...
What is Yonderland?
"Yonderland is a magical place full of strange characters and lots of stupidity. It's such a big imaginative world. Often when you picture fantasy, it's washed out colours of greys and browns but Yonderland is a really colourful place full of naive, wide-eyed idiots, who know nothing of the world around them."
The story centres on young mum Debbie (Martha Howe-Douglas), who is drawn into this mysterious world via a portal in her kitchen. Why is she needed in Yonderland?
"Debbie is taken to meet The Elders, who appear in every episode giving their counsel. But this basically involves them begging Debbie to help, because they can't do anything for themselves."
You play several characters in Yonderland - do you have a favourite?
"I voice the Elf, who accompanies Debbie in Yonderland, but I'd say one of my favourites is Dave. He belongs to the Ninnies, a race that has devolved because each year they take the cleverest of their tribe and fire them into the sun. The Ninnies sum up the show perfectly."
Yonderland features a great many puppet characters. What was it like filming those scenes?
"Filming with the puppets was certainly tricky, with Martha and I trying not to tread on the puppeteers while performing a scene. Sometimes it felt more like a game of Twister!"
Do you have any funny stories from filming?
"There's one scene where my character, Bombero (pictured), is dancing around. My co-star Jim Howick and I are both obsessed with this clip on the internet of the National Aerobic Finals 1988 and Jim dared me to dance like that. I did, and I hit Martha in the face with a maracca!"
How does Yonderland compare to Horrible Histories?
"I don't really see them as different, in terms of tone. In some ways we get to be a bit more cheeky in a teatime slot, but then there's lots of cheeky stuff in Horrible Histories. Our thinking is that if you try and second-guess what, say, a boy of 12 likes you're going to get it wrong. As a team, we always just try and do things that make US laugh!"
Are you pleased with the public's reaction to The Wrong Mans, the BBC comedy you star in alongside James Corden?
"We couldn't have dreamt that it would go down this well. Again, all we can do is make the show that WE think is funny and good, then you release it into the wild and, who knows, it might get mauled - or people might pat it on the back!"
Get the latest updates, reviews and unmissable series to watch and more!
Thank you for signing up to Whattowatch. You will receive a verification email shortly.
There was a problem. Please refresh the page and try again.