Michael Ball and Alfie Boe: 'We're like Frank Sinatra and Dean Martin!'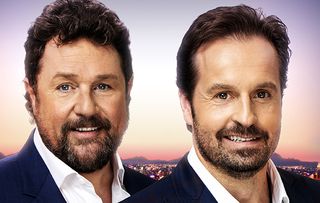 (Image credit: ITV)
Michael Ball and Alfie Boe spill the beans on their friendship and their new ITV special, which is on this evening
After a hit album and ITV special last year, musical theatre stars Michael Ball and Alfie Boe are teaming up for new ITV entertainment extravaganza Ball and Boe: Back Together, which is on tonight at 9.00pm.
Here, Michael Ball and Alfie Boe tell TV Times what's in store in Ball and Boe: Back Together …
Why did you want to reunite?
Michael Ball: "I was sick of his begging!" Alfie Boe: "It has just been fun. Our ITV show and album last year was the first thing we'd really done together so it was about discovering things about each other's performance and it was such a success. This is a step up from last time and we do songs from our new album [Together Again, out on 27 October] as well as a song from The Lion King, As If We Never Said Goodbye and a song from Hamilton." MB: "We also do Andrea Bocelli and Celine Dion's The Prayer, so it's a good cross-section." AB: "We do a Queen tribute too and a music riff-off to see if we can sing different genres."
Imelda May and also Jason Manford guest star. As Jason is biting at your heels now as a singer, did you try to upstage him?
MB: "Yep! We've completely ruined his credibility. We set out to sabotage his song and did a pretty good job of it!" AB: "That was the whole point of him coming on the show! No, he is a good sport with a great voice. He's always wanted to get into this world and deserves his success."
Why do the two of you work so well together?
MB: "We never row. You've got to be sensitive and know when to give somebody space - or a tickle!" AB: "We're never competitive either, although Michael tries to put me off! We just want to do well for each other and not let anyone down. It's about teamwork. We're not a comedy duo like Ant and Dec or Morecambe and Wise, it's more like Frank Sinatra and Dean Martin where they just came together and had a laugh."
Would you ever like to do a musical together?
MB: "The obvious one is Les Miserables. It may come as a shock to you TV Times, because I'm a natural juvenile lead, but I might be too old to play Marius now! But I'd love to do Javert opposite his Jean Valjean." AB: "Either that or he could be Fantine." MB: "Or Madame Thenardier!"
Who's the biggest diva on tour?
MB: "Alfie!" AB: "Michael! No our rock and roll days are done." MB: "We just love a nice box set don't we?" AB: "Yep, a cup of tea and an episode of Dad's Army. Actually I don't watch much TV, I play guitar on the bus while Michael's watching monsters!" MB: "You don't understand that Game of Thrones is the greatest television ever made."
And who's the best singer?
MB: "Alfie! [Long pause] I'm so supportive but he's now meant to say my name…" AB: "I was going to! We both bring something different to…" MB: "Just say Michael!" AB: "Erm…" MB: "Wow! Then Aled Jones or Jason Manford is better."
Ball and Boe: Back Together airs on ITV on Sunday 29th October at 9pm
Get the What to Watch Newsletter
The latest updates, reviews and unmissable series to watch and more!
Caren has been a journalist specializing in TV for almost two decades and is a Senior Features Writer for TV Times, TV & Satellite Week and What's On TV magazines and she also writes for What to Watch.
Over the years, she has spent many a day in a muddy field or an on-set catering bus chatting to numerous stars on location including the likes of Olivia Colman, David Tennant, Suranne Jones, Jamie Dornan, Dame Judi Dench and Sir Derek Jacobi as well as Hollywood actors such as Glenn Close and Kiefer Sutherland.
Caren will happily sit down and watch any kind of telly (well, maybe not sci-fi!), but she particularly loves period dramas like Call the Midwife, Downton Abbey and The Crown and she's also a big fan of juicy crime thrillers from Line of Duty to Poirot.
In her spare time, Caren enjoys going to the cinema and theatre or curling up with a good book.