From Dynasty to the Dales: Michael Praed joins Emmerdale!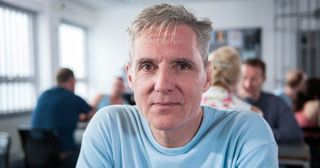 Dynasty and Robin of Sherwood actor Michael Praed joins Emmerdale as Tracy Shankley's estranged dad
Emmerdale welcomes Michael Praed to the Dales but it's yet to be revealed whether the original Robin of Sherwood actor will be a good guy or a bad dad...
Michael will play the role of Frank Clayton, Tracy Shankley's father. Frank is currently serving time in prison when Tracy's boyfriend David (Matthew Wolfenden (opens in new tab)) pays him a visit. David hopes that by speaking to Frank he can help the father and daughter reconnect and develop some sort of renewed relationship.
Tracy (Amy Walsh (opens in new tab)) has no idea David's reached out to her estranged father. Frank is soon to be released and will arrive in the Dales imminently. What will happen when Tracy and Frank finally come face to face?
Michael said: "I'm thrilled to be joining the cast of Emmerdale to play the role of Frank. From what I understand his life is fairly complicated and I'm looking forward to getting to know him and portraying this complex man".
Michael Praed is an established actor with a wealth of experience under his belt. Best known in television for his role as Robin Hood in the BAFTA winning series Robin of Sherwood. He's also well known for playing Prince Michael of Moldavia in Dynasty. In Broadway and the West End he has most notably appeared in Pirates of Penzance and The Three Musketeers and has been the regular narrator of BBC TV's Timewatch documentary series.
Emmerdale's producer: Iain MacLeod says, "The character of Frank is really fascinating: flawed, funny, flirtatious - even fatherly, when it suits him! His tale is a story of a man trying to find redemption in the face of huge temptation, with a massive twist or two thrown in for good measure. I am thrilled that Michael is on board in the role. He is an actor of real skill and understatement and a brilliant addition to the cast."
Get the latest updates, reviews and unmissable series to watch and more!
Thank you for signing up to Whattowatch. You will receive a verification email shortly.
There was a problem. Please refresh the page and try again.