Michael Stevenson: 'The Casualty crash puts paramedics in jeopardy!'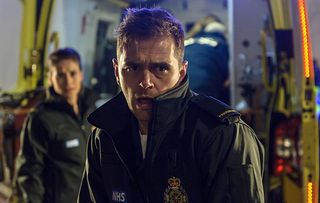 (Image credit: BBC / Alistair Heap)
Michael Stevenson reveals lives are on the line in Casualty when a motorway crash leads to an explosion that kills indiscriminately…
Last week Casualty ended on one of its most shocking cliffhangers. The ambulance carrying paramedics Iain Dean and Ruby Sparks, and seriously injured doctor Alicia Munroe was forced to swerve, flipping on its side. This week, Casualty officially kicks off its new series (Series 33 of BBC One's long-running medical drama, to be exact!) with an ambitious stunt, which results in multiple deaths.
https://www.youtube.com/watch?v=sumOkgz1IfQ
Who dies is under wraps, but Casualty favourites joining Iain, Ruby and Alicia at the crash scene include doctor Dylan Keogh (Will Beck), and paramedics Sam Nicholls (Charlotte Salt) and Jan Jenning (DI Botcher). Back at Holby ED clinicians Connie Beauchamp, Ethan Hardy, Elle Gardner and Rash Masum, nurses Jacob Masters, Louise Tyler, Robyn Miller, David Hide, Duffy and Charlie Fairhead and receptionist Noel Garcia leap into life-saving mode. Could a plot twist mean one, or more, of these fan favourites are in danger?
We talked to Michael Stevenson, who plays paramedic Iain Dean. Here he reveals the behind-the-scenes secrets of this explosive episode…
Casualty ended on a shocking cliffhanger last week. Where does it pick up?
"Last week you saw Iain and Ruby arrive at Alicia's house. This week we go back twenty minutes to the same time zone, but you see it from a different perspective. Basically Iain's decision to go and treat Alicia sparks off the events in this week's gripping episode."
We know Iain's been forced to swerve the ambulance for an unknown reason…
"The crash takes Iain by surprise. What happens in that moment is completely out of his hands. It's what comes before the crash that leaves questions opened to be answered…"
It's an ambitious stunt involving multiple vehicles and a fuel tanker. The results are cinematic. Did it feel like a movie while you were filming?
"It did actually. It was directed by Steve Brett and the way he works is cinematic. With the nature of this particular episode we were afforded more time, the stunts in particular couldn't be rushed. Also, because of the nature of the characters' journeys and how they affect everybody else, we talked a lot about the scenes, so it did feel very much like a film at times. In terms of the scale too, it very much felt like we were on movie standards."
Can you tell us about the set – it sounds impressive!
"The set on the road where we did the stunts was just phenomenal. I'm quite lucky on Casualty because playing a paramedic I get to go to many different locations, but this one blew me away. The bridge involved was actually set-built. We couldn't believe it ourselves when we were filming, you couldn't tell which one had been built."
We talked to Charlotte Salt, who plays paramedic Sam Nicholls, during filming and she revealed she doesn't like night shoots, but that you love them…
"[Laughter] My entertainment on night shoots is trying to cheer Charlotte up! I absolutely love night shoots. I used to be a milkman when I was a kid, so from an early age I've been getting up early to work. I like the secretiveness, that you're doing something while everyone else is asleep. Then driving home with the sun is rising is really nice. So yes, I absolutely love night shoots but it's harder work having to cheer Charlotte up!"
What other behind-the-scenes info from the crash set can you reveal?
"Originally we had six weeks to work on the crash episode. Normally we're given four weeks for a block, but for this we got an extra week or two. Because of the nature of the shoot, every time we filmed the crash everything had to be re-set – including the tanker. So we had extra days to make sure we got everything we needed."
It sounds like a lot of hard work has gone in to this episode?
"It's an episode that hasn't cut corners, that's for sure. Everything, from the production values to the re-shoots to get that extra bit of detail, has been done. Money and time has been invested in it – and it kicks off the new series in quite some fashion I feel."
Have you seen a preview of the episode?
"Yes, and it's quite an episode in terms of energy and not knowing what's coming next. When I watched it for the first time it kept me gripped – even though I know exactly what happens I was on the edge of by seat! The pace is incredible."
What does the damaged fuel tanker mean for Casualty characters at the scene of the crash?
"The dangers surrounding the patients trapped in this massive, multi-car pile up means they can't be freed very quickly. The fuel tanker in the background is like a ticking time bomb, adding pressure to the situation. When it explodes it adds to the carnage that came before it!"
Are the lives of people on the scene – including Casualty medics and paramedics – in jeopardy?
"There's danger throughout this episode. A lot of people are involved and you just don't know what's going to happen. The explosion puts patients and paramedics in jeopardy!"
Find out who lives and who dies when Casualty airs this Saturday at 9:10pm on BBC One
Get the latest updates, reviews and unmissable series to watch and more!
Thank you for signing up to Whattowatch. You will receive a verification email shortly.
There was a problem. Please refresh the page and try again.