Michelle Ackerley: 'I love the mishaps of live telly!'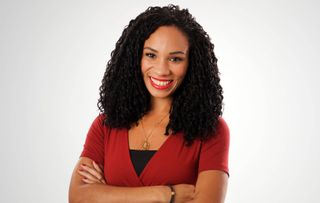 (Image credit: BBC/Pete Dadds)
Michelle Ackerley reveals working on The One Show has been a surreal experience so far – thanks, largely, to the Teletubbies – but she'd not have it any other way…
When Alex Jones went on maternity leave in January, she left big shoes to fill. But her replacement, Michelle Ackerley, has tackled everything with aplomb; from interviewing Hollywood A-listers to some of The One Show's quirkier moments…
"It's been brilliant," says Michelle. "We had Holly Willoughby and the Teletubbies on and as we were all running around the piazza, with big inflatable balls and the Teletubbies running riot, I did realise it was quite a surreal thing to be doing on a Monday afternoon."
Since joining the show Michelle, who also presents Watchdog and Council House Crackdown, has had incredible support from both Alex and her co-host, Matt Baker.
"The first time I sat on the sofa I thought, 'God this is real now,' and I had to try really hard not to let my nerves show," she admits.
"But Alex left me a good luck card in the dressing room, saying if I needed anything I should let her know.
"And Matt told me that doing the show is just like sitting on the sofa in people's living rooms and that we should just go for it, which really helped me relax."
And there's an added bonus to being on the show - Michelle's mum is enjoying the attention her daughter is getting!
"She's called a few times to say someone came up to her in the supermarket and said I was doing a good job. She feels like a celebrity," says Michelle.
Although nerve-racking, Michelle admits she'd relish more live TV work.
"It's fascinating. I love the mishaps and the mistakes," she says. "On The One Show I just sit on the sofa and chat to amazing people. It's the dream job!"
By Natasha Holt
The One Show airs on BBC1, Monday to Friday, at 7pm
Get the latest updates, reviews and unmissable series to watch and more!
Thank you for signing up to Whattowatch. You will receive a verification email shortly.
There was a problem. Please refresh the page and try again.