Mission Survive's Stuart Pearce: 'There's a bit of Brian Clough about Bear Grylls'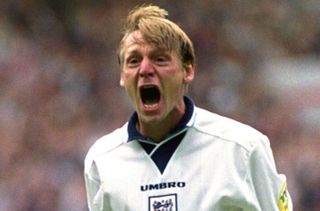 (Image credit: PA Archive/Press Association Ima)
Nicknamed Psycho by football fans and frequently cited by ex-professionals around the world as the hardest opponent they ever faced, Stuart Pearce is arguably the toughest player ever to pull on an England jersey. Yet Stuart, 53, who's competing in the second series of Bear Grylls: Mission Survive, tells TV & Satellite Week there is one thing that turns his legendary legs of iron to jelly…
Going into the show what was your biggest fear?
If there's one thing I can't handle it's heights. Rather than shout about how scared I am, I go all quiet and retreat into myself.
You are forced to face that fear in a challenge called the Leopard Crawl, how did it go?
I had to shin along two ropes across a huge ravine. I had half a leg of springbok in my backpack. If I made it to the other side, my team would be allowed to eat the springbok for tea. If I failed we'd go hungry. Rule number one when dealing with heights is not to look down but I was pulling myself along the ropes on my stomach and I had no choice but to look down over the drop. It was terrifying – easily the scariest challenge of the whole process.
In the opening episode, Grylls asked you and your fellow contestants – Neil Morrissey, Michelle Collins, Jason Gardiner, Chelsee Healey, Alex Scott and Samantha Barks – to drink a bottle of your own boiled urine – any second thoughts about that?
That was probably the easiest thing I had to do! I just imagined I was in a nice little coffee shop enjoying a cappuccino!
During a glittering football career, you won 78 England caps, and worked under some of football's most famous managers including Brian Clough, Bobby Robson and Terry Venables. Any similarities between your former bosses' approaches to man-management and Bear's leadership style?
I think there's a bit of Brian Clough about Bear. Brian used to basically say, 'The game's very simple, this is what I want you to do. Live up to my expectations or suffer the consequences.' Bear's very straightforward like that. Also Bear is brilliant with his feedback. He's spot on with his assessments of everybody.
In January, you came out of retirement to sign for non-league side Longford AFC. Having already conceded more than 170 goals this season, they're rooted to the bottom of the Gloucestershire Northern Senior League Division Two and have been cruelly dubbed the worst team in Britain.
I haven't really kicked a ball for them yet because our matches have been rained off a couple of times. But I'm hoping to make my debut this month. They could end up even worse with a washed-up, middle-aged old git like me playing for them!
Finally, how do you rate England's chances in this summer's European Championships?
I think a lot of young English players have done particularly well this year and I'd really like to see Roy Hodgson start with Dele Alli, Ross Barkley and Harry Kane in England's first match It's all about building momentum. Sometimes England don't start tournaments brilliantly but then they find their rhythm and go on a run, just like we did in 1990. Hopefully that can happen again.
Bear Grylls: Mission Survive continues next Thursday on ITV at 9.00pm
Thank you for signing up to Whattowatch. You will receive a verification email shortly.
There was a problem. Please refresh the page and try again.