Mo Farah tells Piers Morgan: 'I'd never cheat'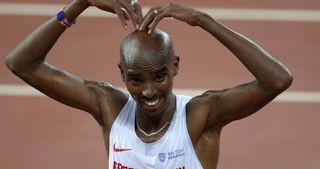 (Image credit: of Sports SC/REX Shutterstock)
Double Olympic gold medal-winning athlete Mo Farah gives a candid interview to chat-show host Piers Morgan (opens in new tab) about his world-beating sporting achievements and illegal performance-enhancing drugs, explaining why he could never cheat.
Somalian-born Mo, whose achievements also include a hatful of World and European Championship gold medals, confesses in Friday night's Piers Morgan's Life Stories on ITV that he has moments where he wonders at his own success.
"Sometimes I see myself as a kid, not being able to speak any English – and then now, to achieve two gold medals, have a CBE, and to be considered as one of the greatest. It's unbelievable, I'm very grateful."
He insists, however, that his achievements are the result of gruelling training. "I run 18 miles average a day, every day. On Sundays, I do a longer run, between 18 and 20 miles.
"It's hard, I don't get to see my family, I don't have a social life. But that's why I'm number one. I have to train for it."
Indeed, the athlete vehemently refutes any suggestion that his success is down to banned drugs and insists he has never been tempted to go take anything illegal to boost his performance.
"The whole reason I moved to the US, to be coached by Alberto Salazar [who has since strenuously denied claims of illegal doping], was to be able to improve. I was sick of coming sixth, seventh in the world; getting close to a medal, but not quite there. My training and a lot of stuff has changed, so people automatically think… sometimes it frustrates me.
"I've won a lot of medals, and I'm clean. I can't cheat, I'd never do that."
Looking forward, Mo, 32, is keen to retain his titles at the Rio Olympics next year. "I want to definitely do it. After that, I'll probably maybe give it one more year on the track, then I'll probably run one or two marathons and retire. I want to be able to spend time with my family. But it would be retiring from running, not retire in terms of becoming a coach or giving something back to the sport."
Mo, who was brought to the UK aged eight years old, seems relaxed about assertions that he isn't 'British'.
"Everyone's entitled to their opinions," he says. "But it's what you feel in your heart, and for me this is my country, I see myself as British. I've done well for my country."
Of course, no interview with Mo seems able to pass without reference to the famous 'Mobot'. Asked what he would do if the Queen were to offer him the title of Sir for his sporting achievements, Mo tells Piers, "I'd take it! It would be amazing." But would he suggest to the Queen that she do his signature pose? "I wouldn't dare!"
http://www.youtube.com/watch?v=wXiWoqRXEK4
Piers Morgan's Life Stories: Mo Farah can be seen tonight at 9pm on ITV
Get the What to Watch Newsletter
The latest updates, reviews and unmissable series to watch and more!