Doing Money star Allen Leech: Human trafficking 'could be happening in your town'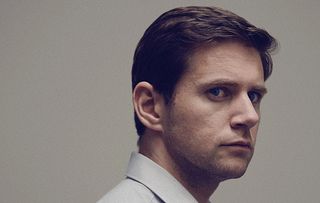 (Image credit: BBC/Renegade Pictures/Phil Sharp)
Allen Leech reveals all about his harrowing BBC2 drama
Allen Leech is a long way from Downton Abbey this Monday as he tackles a challenging role in BBC2's Doing Money.
Based on a real case, the drama centres on Romanian cleaner Ana (Anca Dumitra), who is kidnapped in London and forced to work in temporary brothels in Northern Ireland and the Republic of Ireland.
Allen plays dogged DI Dougie Grant, who leads a police unit that is targeting human traffickers and trying to save Ana and her fellow sex slaves.
Here, ex Downton Abbey star Allen Leech, 37, tells us more about Doing Money…
How do you see Dougie?
Allen Leech: "He has incredible integrity and is trying to do right by these girls. But he suffers frustrations. It's so difficult to save them because they can't talk as they are so afraid.
"The real Dougie worked tirelessly on something that's so important – I feel a great sense of duty and responsibility. I was bowled over by the real Ana's story too, and I want to applaud her bravery in coming forward because of the risks she was taking in doing that."
Were you shocked to learn what these girls go through?
AL: "Yes, particularly how the gangs entrap them. They prey on the most vulnerable part of all our lives, which is our family. That's chilling and evil and strips you of humanity."
The brothels are in residential areas and holiday lets. Has it made you more aware of what you might be passing by in the street?
AL: "A line that struck me is when Ana meets Dougie and says, 'We're all around you – you just have to see us.' It does make you sit up and have a new level of awareness."
What do you hope the audience will take from this?
AL: "The fact that it could be happening in your town. I want people to talk about it. I'd love it if it could get through to the people that are using these girls. But if it just opens up a dialogue about what can be done to help the women, that would be great."
Doing Money is on Monday on BBC2 at 9pm.
Get the latest updates, reviews and unmissable series to watch and more!
Thank you for signing up to Whattowatch. You will receive a verification email shortly.
There was a problem. Please refresh the page and try again.