New Neighbours trailer hints someone gets SHOT in siege episode!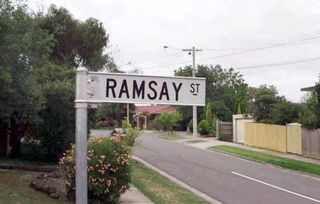 Life is far from quiet in Ramsay Street...
Neighbours has released a brand new trailer, revealing that someone could get shot in a siege that's set to air in the coming weeks.
It has been announced that a dangerous gunman will storm into the Waterhole at the end of next week, threatening the lives of some of our most favourite Ramsay Street residents.
https://www.youtube.com/watch?v=lR-6wpHswwg
The new character, Ivan Renshaw, is the uncle of recent arrival Delaney Renshaw, who has bought nothing but trouble with her since the moment she set foot in Erinsborough.
Fans of the Aussie soap will know that Delaney has been at the centre of recent drama as she's tried to blackmail Leo into dumping Terese and starting a relationship with her... all because the pair have a dark history.
Before arriving in Ramsay Street, Leo acted as a police informant which lead to Delaney's uncle Ivan and dad Raymond being sent to prison, and it seems his haunted past is about to become a nightmare as the siege takes place.
In the new trailer, Neighbours has given fans a glimpse at what to expect in the coming weeks, hinting that someone could die by captioning the trailer with the teaser: "Who do you think will be shot?".
The 30 second trailer shows Delaney sitting in a field, picking petals from a flower, but don't be fooled by her innocence as in the next moment there are armed police swarming a taped off area of Lassiters, apparently trying to hunt down the gunman.
But who is Ivan set to shoot? Could Leo find himself in the firing line if Ivan is on a quest for revenge? Or is someone else entirely in danger?
And could Ivan's dangerous arrival in Erinsborough be down to Delaney, or is this just a pure coincidence that the family members have come to cause trouble at the exact same time?
Neighbours will be airing these scenes on Friday 11th January and airs weekdays at 1.45pm and 5.30pm on Channel 5
Picture credits: Channel 5
Get the latest updates, reviews and unmissable series to watch and more!
Thank you for signing up to Whattowatch. You will receive a verification email shortly.
There was a problem. Please refresh the page and try again.