Nicole Scherzinger: 'I've sacrificed family for my career'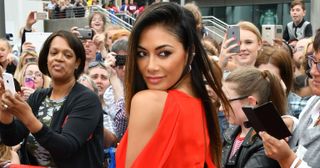 Nicole Scherzinger has admitted her successful career as a Pussycat Doll, solo artist and X Factor judge has come at a price.
X Factor judge Nicole Scherzinger has admitted that her career success has come at a price – because she has "no kids yet".
The ex-Pussycat Doll, 38, is back on the panel of The X Factor alongside Simon Cowell, Louis Walsh and Sharon Osbourne, after forging a successful solo career and a stint starring in the musical Cats.
But she told the Sunday Mirror that she had made sacrifices in her personal life.
"Look at me, I'm not married and I ain't got no kids yet. Of course work has come at a sacrifice. I've missed out on life," she said.
But Nicole said that she had not expected to have children by now.
"I see a vision of what I want as an artist. Now I'm going to the top of that mountain. When I get there, then I'll have time for a family and kids.
"I feel that the good thing with getting older is you are able to find more of a balance. But I haven't even skimmed the surface of what I am capable of creating and what I know that I was born for.
"It's a sacrifice when you put your heart into a job. Relationships suffer.
"Every time I call my mother she's like, 'Oh is this my daughter calling?' I'm like 'really Mum?'.
"You are in a zone and you put all your attention in, so other things do suffer sometimes."
Nicole had a seven-year relationship with Formula One ace Lewis Hamilton, 31, but their romance ended in February this year. She is currently dating Bulgarian tennis star Grigor Dimitrov, 25.
"He's a fan of The X Factor," the singer said of her partner. "He's very supportive."
Popular Nicole has made a successful return to this year's judging panel. She is also back in the studio in the hope of re-launching her solo career.
The X Factor continues tonight at 7:30pm on ITV1.
Get the latest updates, reviews and unmissable series to watch and more!
Thank you for signing up to Whattowatch. You will receive a verification email shortly.
There was a problem. Please refresh the page and try again.