Nosferatu the Vampyre (1979) | Werner Herzog's haunting tribute to the greatest era of German cinema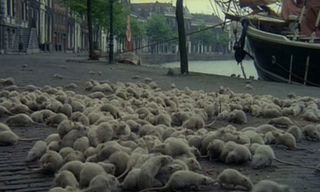 In spite of grim omens from his wife Lucy Harker (Isabelle Adjani (opens in new tab)), estate agent Jonathan (Bruno Ganz (opens in new tab)) leaves his hometown of Wismar behind to venture deep into the Carpathian Mountains to close a property deal. But on meeting Count Dracula (Klaus Kinski (opens in new tab)), Harker discovers the sickly, wraith-like creature is a centuries-old vampire intent on bringing death in the form of an army of plague-carrying rats to Harker's idyllic town…
THE LOWDOWN Rather than retelling Bram Stoker's novel, German director Werner Herzog's (opens in new tab) Nosferatu the Vampyre (opens in new tab) is a neo-expressionist restaging of FW Murnau's 1922 silent classic (opens in new tab). Critics of the day called it 'a magnificent miscalculation', but age has proven Herzog's imagining to be a masterful contribution to the vampire canon.
The film is rich in references to expressionist cinema (opens in new tab) – shadowy camera work, dramatic lighting effects, affected gestures – but its use is not just to pay homage. It's all about breathing cinematic life into Herzog's vision of a waking nightmare and the film's key theme, the danger of ghostly dreams that 'steal life and spread death, whether in the form of vermin, monsters or men' (*). The castle scenes are genuinely creepy: its broken windows and bats hanging about lending it an authentic haunted air. It's here that Kinski (the spitting image of Max Schreck's Orlok (opens in new tab) in Murnau's original) gets full reign to bring depth and empathy to his melancholy Count. It's an exquisite nuanced performance that shows the actor at his height and became his most iconic role.
Expressionism aside, the film is also pure Herzog. The location scenes set in Slovakia's High Tatra mountains (standing in for the Carpathians), where Ganz's Harker encounters (real) local gypsies, are hugely impressive, while Popul Vuh (opens in new tab)'s ethereal music enhances the film's naturalistic qualities: it also makes a perfect counterpoint to Dracula's artificial nocturnal realm.
Meanwhile, the scenes in Wismar (actually Delft in The Netherlands), where Adjani comes into her own as the self-sacrificing Lucy, are painterly and surreal. And it's here that Herzog's other key theme, how bourgeois society collapses under assault from the unconventional (a theme also at the crux of Hammer's 1958 Dracula), is captured most deftly in the scenes of the townspeople dining outdoors as the plague-carrying rats swarm around them. Those scenes, and the ones of Kinski's wraith suckling on Lucy are forever haunting.
THE BFI UK RELEASE The limited edition Blu-ray Steelbook (opens in new tab) features the re-mastered 1080p presentations of the English and German versions in the original aspect ratio 1.85:1 with original PCM 1.0 mono audio (German and English) and alternative 5.1 Surround audio (German) with optional subtitles. The special features include audio commentary with Werner Herzog, on-set promotional film featuring interviews with Werner Herzog and Klaus Kinski (1979, 13 mins), trailer, stills gallery and illustrated booklet featuring a new essay by Laurie Johnson (*).
• The BFI's Werner Herzog Collection (opens in new tab) box sets, which span 20 years of the director's career, from 1967 – 1987, will be released on 21 July on Blu-ray (8 discs) and DVD (7 discs). http://youtube.com/v/S1Rachk7ipI
Get the latest updates, reviews and unmissable series to watch and more!
Thank you for signing up to Whattowatch. You will receive a verification email shortly.
There was a problem. Please refresh the page and try again.