Nude model says Dave Lee Travis was 'very, very professional'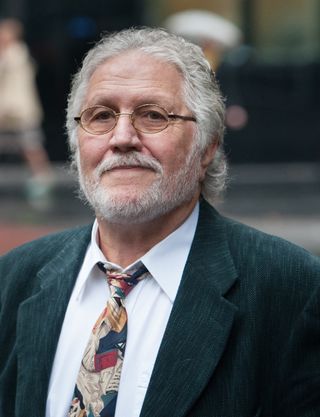 DJ Dave Lee Travis was 'very, very professional' when he took naked pictures of a female musician at his house, she told a court today.
Elisabeth Birks said she met Travis at a charity event at London's Battersea Park.
Travis asked her if he could take photos of her after he saw that she had interesting tattoos.
Travis, 68, is on trial accused of indecently assaulting 10 women and sexually assaulting another while working as a BBC DJ, as a broadcaster with Classic Gold radio, while appearing on Top Of The Pops and when starring in pantomime.
He denies all the charges.
Ms Birks told Southwark Crown Court she was about to take to the stage with her husband when Travis tapped her on the shoulder and said he liked a tattoo on her back, which he had seen because she was wearing a backless dress.
She said: "He was very friendly, he seemed lovely."
Ms Birks said Travis asked if she would model for him, which she was happy to do, and gave her his card so she could contact him.
She visited Travis's home in 2010 with her husband, where the DJ introduced the couple to his wife.
After he gave them tea and cakes and showed her previous photos he had taken, her husband went to watch films and his wife remained downstairs while Travis and Ms Birks went off to take photos together, she told the court.
Ms Birks said they started with her wearing a vest top and hot pants so Travis could take photos of her tattoos, but they eventually took pictures of her while she was naked.
Ms Birks said Travis was a 'very, very professional photographer, very polite' and would always ask her if he wanted to physically move her.
She said: "He just made me feel very comfortable.
"Dave was very professional about it."
Asked if he ever did anything inappropriate, Ms Birks said: "No, not at all.
"I felt comfortable for the whole thing. Everything was fine."
Travis, from Buckinghamshire, is charged with 13 counts of indecent assault dating back to between 1976 and 2003, and one count of sexual assault.
He is appearing in court under his birth name David Griffin.
The defendant, wearing a grey suit, white shirt and patterned red and white tie, listened to the proceedings in the dock with the aid of earphones.
Former Radio 1 producer Timothy Blackmore said he was not aware of any inappropriate conduct by Travis while they worked together at the BBC.
Mr Blackmore said he only heard 'stories' of a complaint against the DJ after his company took over Classic Gold Radio, where Travis later worked, in the early 2000s.
The witness, who was part of the team which launched Radio 1 in the 1960s, said Travis was 'gregarious, warm hearted, entertaining and professional'.
Mr Blackmore, who left the BBC in 1977, said Radio 1 DJs at that time were 'elevated in the national consciousness' as it was the first legal station to play pop music all day.
He told the court that Radio 1 fans had a 'great deal of enthusiasm to meet their heroes', but could not remember any particular incident involving Travis meeting fans.
"I specifically remember trying to rescue Tony Blackburn from a crowd," he said.
On another occasion he had to drive Noel Edmonds away from people 'who wanted to tear every limb from his body', Mr Blackmore said.
He recalled an incident in which he travelled on a train to Blackpool with an unnamed Radio 1 DJ when a 'couple of girls' spotted them on board.
"The end result was that when we got into Manchester he got off the train with them," the witness said.
"I tried to persuade him not to get off... but he insisted and went off to do with these two young ladies, I do not know what."
Mr Blackmore told the court that the DJ he referred to was not Travis, Blackburn or Edmonds.
Kevin Howlett, who worked on Radio 1 roadshows and produced Travis's Saturday show from 1985 to 1987, said Travis was a 'gentle giant of a man' and everything he associated with him was 'warmth, friendliness and jollity'.
Mr Howlett said Travis's way was to 'just be friendly and give somebody a big hug', adding that he had received a hug himself when they made a programme together in the 1980s.
He described Travis as a 'very experienced broadcaster, very well respected broadcaster', calling him 'very gifted'.
During cross-examination, prosecutor Miranda Moore QC asked him: "If somebody was overtly committing sexual assaults or being sexually inappropriate at the BBC, do you think that would have become known?"
Mr Howlett replied: "Yes, there would probably have been whispers or rumours. I never heard anything to do with that with Dave. Not one whisper or rumour."
Asked whether he had heard any rumours about Jimmy Savile while he worked at the BBC, Mr Howlett said: "Nothing substantial at all, really, just vague things that he was a bit of a ladies' man, or something like that.
"I wasn't aware of anything that has come out since, about underage girls. I just heard rumours he was a shady character."
Mr Howlett told the court that on the two occasions he met Savile he got the impression he was 'a very strange character', adding that Savile did not go to Radio 1 events or roadshows.
Sandra Lillywhite, who worked as a secretary at the BBC from 1964 to 1985, said Travis was 'very professional, very friendly' and 'enjoyable to work with'.
Asked by Stephen Vullo, defending Travis, whether she heard any complaints about his client, Ms Lillywhite replied: "No never."
"I never ever heard anything untoward," she said.
Ms Lillywhite said Radio 1 fans at the time were referred to as "trainspotters".
"They used to be male and female," she said. "Radio 1 was so big at the time they could not wait to get any autographs."
Asked whether 'big star' DJs at Radio 1 were too big to have complaints against them, she replied: "Not at all."
Get the latest updates, reviews and unmissable series to watch and more!
Thank you for signing up to Whattowatch. You will receive a verification email shortly.
There was a problem. Please refresh the page and try again.