Olivia Colman: I was terrified of singing in London Road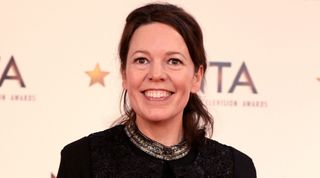 Olivia Colman has revealed she was 'terrified'" of singing in her new film, London Road.
The Bafta-winning star, 41, had to tune up to play Julie, a community leader and member of the Neighbourhood Watch, in Rufus Norris' big-screen adaptation of the 2011 stage show.
Olivia Colman and her London Road co-stars (Picturehouse Entertainment)
Olivia, whose singing credits stretch 'enthusiastically'to the shower and the school choir, said: "It was definitely the music I was terrified of, because it was very difficult.
"The songs in London Road are all verbatim, which is much more about the rhythms and pitches of human speech. In the end, actually the music was much easier to learn than the dialogue. It's verbatim and somebody else's voice patterns. That's really hard."
The Broadchurch actress joins the original cast of the theatre production, at London's National Theatre, which documents the events that shook Suffolk in 2006 when the rural town of Ipswich was shattered by the discovery of the bodies of five women who had been murdered.
Tom Hardy and Anita Dobson also play characters in the film, which will have its world premiere at the Ritzy in London's Brixton, on June 9 before being released nationwide in 300 cinemas on June 12.
http://www.youtube.com/watch?v=I8NxcsH9o4A&feature=oembed
The Peep Show actress said she didn'tt take any singing lessons in preparation. She said: "I think I'd stick out like a sore thumb if I did. I wasn't employed for that."
She did have some help when it came to the musical scenes. "David Shrubsole, who is the musical director, was there, whenever there was a singing piece," she said.
"He had a little ear-piece and he had clicks, to keep you to time. I was always like, 'Please be there where I can see you!' – because I was so nervous. Amongst the whole team, who were brilliant singers and could all read music, I just had to follow the black dots."
Olivia Colman in London Road (Picturehouse Entertainment)
Olivia, whose other screen credits include BBC TV series Twenty Twelve, Phyllida Lloyd's drama The Iron Lady and Paddy Considine's Tyrannosaur, said she is not tempted to do any other musicals on stage.
"I think that's a whole other skill. Singing on stage is a very different thing. It would be wrong to assume everyone could do it," she added.
"Musicals are not really my bag, to be honest, but you know why the songs are in it. I do find songs in the middle of a film peculiar a lot of the time."
Get the latest updates, reviews and unmissable series to watch and more!
Thank you for signing up to Whattowatch. You will receive a verification email shortly.
There was a problem. Please refresh the page and try again.