Olivia Colman's new series, Flowers, 'goes to darker places than most would go to'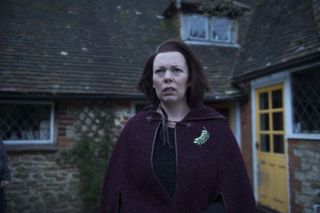 (Image credit: Des Willie)
The Night Manager star Olivia Colman is back on TV this week, this time starring in the new Channel 4 dark comedy, Flowers.
Told over one week, Flowers is the story of an eccentric family struggling to hold their lives together.
In a recent interview, Olivia explained what attracted her to the series…
"I liked the script. It was lovely to work with Julian Barratt [who plays Maurice] from The Mighty Boosh and I think writer/director [and former Casualty star] Will Sharpe is amazing," she told the Daily Express.
"I play Deborah, a woman of love. She loves her family. If she can sense something is not right, she doesn't necessarily try and sort it the right way. The entire family listen but don't hear, which is where a lot of the comedy comes from."
But it's not your typical comedy. For a start, the subject matter isn't the stuff of everyday jokes…
"A comedy about suicide and mental health is pretty unusual," Olivia agrees. "It goes to darker places than most would go to.
"But if everyone's happy all the time it's a bit dull. Darkness really compliments comedy. I think watching someone, from the comfort of your own home, doing something awful or wrong, you have the luxury to be able to laugh at it."
It certainly sounds very different to the tense, thrilling Night Manager…
"Between scenes it's not very different, whether you're on a comedy or a drama," says Olivia. "We're doing a job we love. Take the job seriously but not yourself.
"I felt out of my comfort zone doing Flowers, at first. But then I started to care less and just enjoy it. With [director] Will's guidance, either thumbs up or a 'rein that in a bit', it was fun."
Flowers begins on Channel 4, Monday, April 25, 10.00pm
http://www.youtube.com/watch?v=vpR-5gzK04U
Get the What to Watch Newsletter
The latest updates, reviews and unmissable series to watch and more!