Ordinary Lies' Angela Griffin: 'I lied when I appeared on Saturday Kitchen!'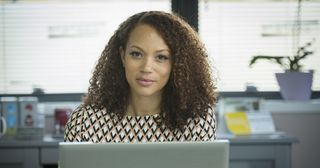 (Image credit: BBC/Red Productions/Adrian Roger)
Angela Griffin stars in the return of hit BBC1 series Ordinary Lies and says, like everyone, she fibs on a regular basis
Angela Griffin plays Jenna Moss, a manager with a seemingly perfect life as hit BBC1 drama Ordinary Lies returns on Tuesday. But the actress reveals there's more to Jenna than meets the eye...
Tell us about your character, Jenna? "Jenna exudes perfection. She's got the most beautiful flat, the most beautiful car and the most beautiful man, though we don't meet him straight away. As general manager of Coopers, Jenna's very driven, ambitious and she's got exactly to where she wanted to get in life. Everyone who works for her thinks she's got it all, but there are parts of her life she's had to hide…"
What's got Jenna looking so worried?
Do we gets teasers from the beginning of the series about what Jenna might be hiding? "Yes! Jenna starts getting letters and phone calls and it turns out that somebody from her past is trying to get hold of her. But responding would mean having to acknowledge her old life and it's a long time before she's ready to do that."
What's Jenna's relationship like with her PA Holly (played by Kimberley Nixon)? "Jenna really trusts Holly and really utilises her – she's ba
sically the approachable face of Jenna. Holly knows everything that's going on, so when Jenna wants to know something, she just asks Holly! Jenna entrusts Holly with organising her business life and her personal life, so they've got quite a good relationship. Though that does start to unravel in episode two…"
Jenna trusts Holly (Kimberley Nixon) to run her life - but is that trust about to be broken?
Did you watch the first series of Ordinary Lies? "I did yeah because my brother-in-law is Max Beesley and he was in it, as was Sally Lindsay, who I've worked with as well. I watched all of the last series and I really enjoyed it. I just thought it was such an interesting idea that there's a moment when someone makes a choice to not tell the truth and then that snowball effect.
"I think Jason Manford was inspired in the first episode – you understood why he lied and you could put yourself into that situation. That's the thing with this series, with each episode you think: 'What would I have done in that situation? Would I have lied? Would I not have lied? And a lot of times you would have lied!"
Do you think we've all got it in us to lie or hide something? And are you any good at telling lies? "I don't believe anybody who says they haven't got a secret; everyone's got something they've had to hide or lie about. I lie to my kids on a daily basis – if I didn't I'd have spoilt, horrendous children, so sometimes you just have to 'invent' things."
Have you ever told a massive whopper? "Yes! I lied when I went onto BBC cooking show Saturday Kitchen a while back. Viewers ring up and decide whether to give guests Food Heaven or Food Hell and eight-year-old Aurelia rang up and said she wanted to give me 'Hell', which was kidneys in a three-mustard sauce. I HATE offal!"
So how did you cope? "I really struggled to hide the hatred, I had for this food but I had to pretend that I liked it and said: 'That's actually all right' when it wasn't all right. At. ALL! The trick is not to tell them what you really hate. I think when Dawn French went on, she said: 'Heaven is chocolate and Hell is chocolate' – but I told them I hated offal, so that's what I got. If I go back on again, I'll need to lie."
Ordinary Lies starts on Tuesday, October 18 at 9pm on BBC1
Get the latest updates, reviews and unmissable series to watch and more!
Thank you for signing up to Whattowatch. You will receive a verification email shortly.
There was a problem. Please refresh the page and try again.